Gage Johnson
Sports Editor
gjohnson17@murraystate.edu
Bri Hunter
Contributing Writer
briannahunter5@gmail.com
On Sunday, June 16, E:60 told former Murray State point guard Ja Morant's story. After being selected with the No. 2 pick in the 2019 NBA Draft, Morant knows where he will get to continue that story.
The all-time assists leader for the Racers will be joining the likes of last year's No. 4 pick Jaren Jackson Jr. on the Memphis Grizzlies. Jackson Jr. averaged 13.8 PPG and 4.7 RPG before suffering a season-ending injury.
Nearly 150 Racer fans attended the University's NBA Draft Party on Thursday, June 20 at the Murray Country Club.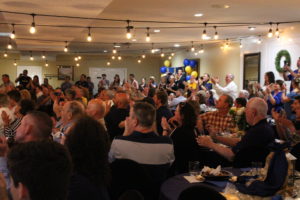 "I love Ja Morant and I love Murray State Racers," Kathy Hargrove said at the draft party.
Racer fans cheered when the Grizzlies chose Morant after the New Orleans Pelicans selected Duke's Zion Williamson as the overall No. 1 pick.
After finishing 14th in the Western Conference last season, the Grizzlies seems to be handing the keys to Morant to become the point guard of their future.
On Wednesday, June 19, the team traded their leading scorer in point guard Mike Conley to the Utah Jazz in return for multiple picks, small forward Jae Crowder, shooting guard Grayson Allen and a sharpshooting two-guard in Kyle Korver.
After finally being drafted Morant shared what it was like to have his name called and shake his hands with NBA Commissioner Adam Silver, as well as what's ahead in his career.
"It feels good to accomplish my dream, how I got here is crazy," Morant told ESPN's Maria Taylor. "I'm just very excited."
Athletic Director Kevin Saal said his heart goes out to Morant and his family.
"For Murray State it's really remarkable," Saal said. "Ja said something in the postseason that really stuck with me, he said he's appreciative of what Murray State has done for him. He could come to a place and focus on his academics and basketball, not being distracted by anything else. He loved Murray for that, so over time you see a pathway for these point guards that can see the NBA through Murray State."
Saal said whether it's Isaiah Canaan or Ja Morant, there is a lot to be excited about when it comes to the NBA and it means a lot to Murray State.
"To connect yourself to the Memphis Grizzlies brand, the Ja Morant brand and the Nike brand, which is one of the most powerful brands in the world," Saal said. "It means a lot to our program."
Saal said Head Basketball Coach Matt McMahon has been in New York with Morant and his family for the last few days, preparing for the draft.
In Morant's sophomore season, he led the league with three triple-doubles, while becoming the first player in NCAA history to average 20 PPG and 10 APG (led NCAA).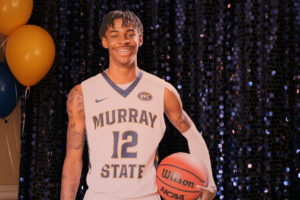 "I absolutely think that it's good that he went this year, I've always said 'You've got to strike while the iron is hot.' and I don't think he could have been any hotter," Murray resident Tim Stark said about Morant leaving after two seasons at Murray State for the NBA.  
Morant brought in countless accolades including the OVC Player of the Year, the Bob Cousy award and was a First Team All-American this season.
Former Mayor Jack Rose said Morant going second overall in the draft gives Murray State a huge boost.
"It's going to be a real good situation for Murray State, we've already got a lot of publicity to Murray State and to this community," Rose said. "It's also going to help Murray State in recruiting athletes and other students to go with it, so it's a win win."  
If Murray fans want to watch the highest drafted Racer in the 2019 NBA season, they can make a 2 hr 51 min drive to Fedex Forum, the home of the Grizzlies, in Memphis, Tennessee.
Morant took to social media after being drafted to leave Racer fans with a special message.
"What's up Racer Nation, it's Ja Morant, I'm sure y'all know that," Morant said on Twitter. "I just want to thank y'all for everything that y'all done for me in the past two years. I'm close to home."