Story by Destinee Marking, Staff writer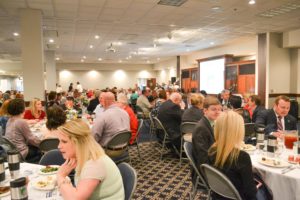 The Murray-Calloway County Community Foundation's first Celebration of Philanthropy was held April 25 at the CFSB Center.
Endowments were granted by the foundation to local nonprofit organizations for the charitable work they do.
"Each year we write checks out to the beneficiaries of the endowments," said Harold Hurt, president of the Murray-Calloway County Community Foundation. "Then they have options; they can either take their check or they can reinvest it."
The celebration mainly consisted of remarks from Hurt and Tony Watkins, CEO of the Community Foundation of West Kentucky.
Before Hurt presented recognition and checks to 47 organizations, Watkins  spoke about the stress of fundraising and the importance of it.
Watkins said fundraising gives people in the community something meaningful to participate in and a way to make change. He called for organizations to reach out to people and call them to action.
"You raise friends before you raise funds," Watkins said.
The 2016 Nonprofit of the Year and Philanthropist of the Year awards recipients were also announced.
Life House Care Center, a nonprofit Christian ministry organized to guide and assist pregnant women and girls, was named Nonprofit of the Year.
Dick Weaver, supporter of Murray State and other local organizations, was named the Philanthropist of the Year.
Weaver has shown financial support to many organizations, including CASA by the Lakes, Murray Independent School District and Angels Community Clinic.
Mayor Jack Rose also presented Weaver with a key to the city of Murray.
If every organization chose to take the endowment as a check, Hurt said a total of $50,000 would have been handed out.
Angelia Boyd, executive director of CASA by the Lakes, said her organization is reinvesting its money.
Boyd said events like this are exciting because even though CASA by the Lakes is reinvesting the money, she gets to hear what other organizations do with money that is granted to them.
"It is exciting to get nonprofit organizations together, so we can swap stories and ideas and find out how the endowments are helping other people," Boyd said.
Katie Bates Robertson, Murray Art Guild board member, said her organization is also reinvesting the money.
Members of The Murray Art Guild said they want to raise money to fund scholarships in the future.
"We want to provide opportunities for those who cannot necessarily afford them," Robertson said.
The night made clear the the role nonprofit organizations play in the community.
"They're working day in and day out to make the world a better place," Watkins said.