Staff Report
Early Thursday morning, Murray State was chalked by students expressing their opinions of presidential candidates, Hillary Clinton and Donald Trump.
Trump supporters first chalked the campus around midnight. By 3:30 a.m., three Clinton supporters had followed their tracks, altering the Trump supporters' statements.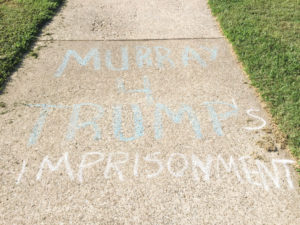 Statements like "Make America great again for rich, white men," "Hillary for prison," "Trump train to hell" and "Murray 4 Trump" later adjusted to "Murray 4 Trump's imprisonment" were written across campus.
Blackburn Science Building, Lovett Auditorium and Faculty Hall were chalked in addition to sidewalks throughout both the academic and residential side of campus.
"People are mindlessly following what he [Trump] says," said one chalker and Clinton supporter who preferred to remain anonymous.
He said they adjusted a statement that said "Croocked Hillary" and circled the "c" in the misspelling and wrote profanity over it, highlighting the spelling mistake.
"That was showing the lack of intelligence of his [Trump] followers – for some of them," he said.
He said their goal was mainly to point out the flaws in Trump's position.
No student organization took the lead on the chalkings.
"Murray State College Republicans took no part and had no idea about the chalking on campus," said Morgan Daniel, senior from St. Charles, Missouri, and public relations chair of Murray State College Republicans.
"As a Murray State organization, we continue to remain respectful of the university, students, faculty and staff," Daniel said.
Murray State College Democrats said they hold the slanderous chalkings in contempt.
"Education is under attack in Kentucky and our university should be unifying in support of policies and candidates that have pledged their mutual support for students and higher education, not wasting our time attempting to incite controversy," said a representative of College Democrats in a statement for The Murray State News. "We hope the individuals responsible will re-evaluate their actions and make an effort to be inclusive."
Students with 8 a.m. classes were able to see some of the chalkings before Facilities Management powerwashed them off.
Alec Brock, senior from Louisville, Kentucky, and political science major, said he found the chalkings humorous and an example of free speech as long as crude language isn't used.
"As someone voting for Hillary, I enjoyed seeing people write back," Brock said about the comments made on Trump chalkings in support of Clinton. "It gave me my great joy for the day," he said.
Jeff Gentry, Public Safety and Emergency Management Assistant Chief, said the chalkings were reported to Public Safety. He said they are investigating who participated in the chalking, and he said the findings will be reported to the Office of Student Affairs.
"It was only by chalk so it wasn't vandalism," Gentry said. "It was able to be washed off and nothing was destroyed."