Story by Alicia Steele, Assistant News Editor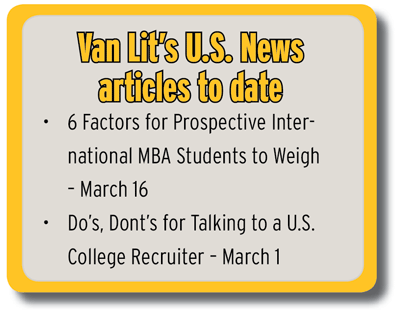 Cathy Jane Van Lit, international graduate student in the Arthur J. Bauernfeind College of Business, began writing for the national publication, U.S. News and World Report, to offer advice to international students interested in attending college in the United States.
Van Lit said the international adviser asked her if she would be interested in writing for the publication after U.S. News tweeted that they were looking for writers.
She said the international adviser first tried to find an international student who already kept a blog, to see if they would be interested in the job and then give the writer a topic to write about.
"It came down to me and I ran with it, basically," Van Lit said.
As a result, Van Lit said she emailed U.S. News a sample of a blog she kept while she was traveling. Shortly after, they responded by asking her what kind of topics she would be interested in writing and told her if they liked her ideas they would get back to her.
Since the blog must be  objective, she could not write specifically about Murray State, but she said her ideas included things like:
• Choosing a state university or a small town for higher education;
• How to talk to recruiters and how to prepare yourself for fairs;
• Once you are admitted, what do you do next?
"So it was all focused on before you get to the U.S.," Van Lit said.
She said two or three weeks later she was asked to write a sample post, but never heard anything back about it.
"A week later, I was grocery shopping and my dad calls me or sends me a text and said, 'Yeah, your blog is posted,''' Van Lit said. "I was like, 'Excuse me?'"
Van Lit said she sent U.S. News an email and asked what would happen next and she was assigned to write about international students who may want to attend graduate school in the United States.
She said the last blog U.S. News asked her to write was about MBA students, and it was her favorite topic so far because she is an MBA student, making it an easy topic for her to write about.
"It kind of gave me the chance to think about the things that I came across that I probably didn't realize," Van Lit said.
For example, she said back home, in the Netherlands, extracurricular activities are not as big of a deal as they are in the U.S.
"If you were in a sorority, it was 'O.K., cool, good for you,'" Van Lit said. "And here it's like a super important stage you go through when you're applying for schools."
She said she came to the U.S. to work for Hilton Hotels and Resorts for a year in 2009, but after that year, her visa ended and she went home.
"Then I got married, and my husband lives here [in the United States]," Van Lit said.
Van Lit said if she could give international students one piece of advice about studying abroad in the U.S., it would be to look into state universities and smaller universities.
"I think one of the best things about Murray State is that you know the professors, and the professors know who you are," Van Lit said. "You don't get that at a big university."