Story by Brianna Willis, Assistant Features Editor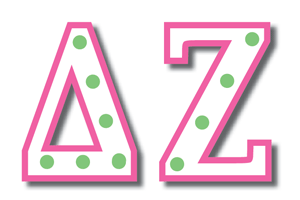 Next fall, Murray State will begin the process of adding a seventh sorority on campus. The addition of Delta Zeta, whose national philanthropy efforts focus on speech and hearing organizations, coincides with the addition of first and second level American Sign Language classes that will be added in the fall.
Evan Ditty, coordinator of Greek life and student leadership programs, said this will help meet a need currently not being served: a lack of services available to hearing impaired students outside of student services.
"Their national philanthropy is different from everyone else's, which is cool," he said.
Kathryn Malone, educational leadership consultant for Delta Zeta, said Delta Zeta partnering with the Starkey Hearing Foundation fits with their philanthropic goals.
"We want to make a global impact," she said. "Partnering with the Starkey Hearing Foundation, who fits hearing aids with men, women and children across the world, helps us with making that global impact."
Ditty said the addition of the American Sign Language classes and Delta Zeta coming in the fall was coincidental. However, he said he hopes it will show how Greek organizations will work with other student organizations.
"I think that we will see them collaborate a lot due to their mission," Ditty said.
The process of starting a chapter is lengthy, but recruitment will begin in the fall. They will start as a colony, and Malone said they will participate in the first round of formal recruitment. Delta Zeta will then drop out of the formal recruitment process, and once formal recruitment is over, they will hold their own process.
Within the year, the colony will have their installation and the founding members will sign the charter solidifying the chapter.
Malone said it will be up to the local chapter to decide what local philanthropy they choose to support, but she said the focus will be on speech and hearing.
Malone said being a member of Delta Zeta is a lifetime commitment and that they have alumnae chapters in Europe and other locations across the globe. She said Delta Zeta is unique because they are an international organization with a chapter in Canada.
Malone said that personally being a Delta Zeta allowed her to expand her leadership skills.
"Greek life in general has a lot of leadership opportunities available," she said. "I served as chapter vice president and chapter president of my own chapter, so that really gave me the opportunity to work with others and serve."
Ditty said the university is always trying to help students get a full college experience outside of the classroom.
"By bringing a new sorority on campus, what we are really doing is opening the door for 70 to 130 women to get a new experience and leave a legacy here," he said. "This is really an opportunity for women who may have not considered Greek life before to start their own and connect with Murray State in a unique way."