Sophomore breaks record after 31 years
Story by Justin Gaston, Contributing writer
The Racers split the weekend at home for the Margaret Simmons Invitational and away at Washington University in St. Louis. The team had a day to remember as members of the 5k and 10k distance team competed and set personal bests as well as breaking a record that stood for 31 years.
Sophomore distance runner Vallery Korir set a new 10,000-meter record for the Racers with a time of 35 minutes, 8 seconds. Teresa Colby set the record in 1985 with a time of 36 minutes, 30 seconds.
"They came in and decided they were going to go for it and they did," said Head Coach Jenny Swieton.
Korir also broke the Francis Field record of 35:44 set in 2012.
Senior distance runner Leah Krause set a new personal best time in the 10,000, almost breaking the original record with a time of 36 minutes, 51 seconds, placing her third all-time at Murray State.
Krause is one of the seniors giving it her all for her team in her final outdoor season.
"I'm realizing this is the last year to do what I want to do," Krause said.
Krause said she will miss the overall experience of being a part of the Racers. She said being with her best friends and the people she trains with is a big part of why she'll miss the team.
 Sophomore distance runners Meagan Smith (37 minutes, 30 seconds), Caroline Grogan (38 minutes, 16 seconds) and Emily Flaherty (38 minutes, 38 seconds) all ran new personal bests in the 10,000.
Sophomore distance runner Rebekah Priddy also ran a new personal best in the 5,000-meter race with a time of 17 minutes, 53 seconds.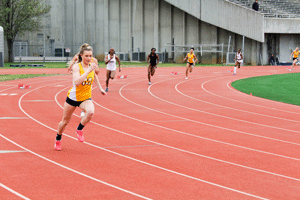 Head Coach Jenny Swieton says she is proud of her team's overall performance."They all run together so when one is going they know they can push themselves as well," Swieton said.
The Racers also hosted the Margaret Simmons Invitational at Roy Stewart Stadium, which is their only home meet of the season. The invitational was also the Racers' Senior Day.
"This senior class was the class we kind of knew how we wanted to build and what direction we wanted to go," Swieton said.
Murray State ran two 4×400 meter relay teams, placing first and second. Sophomore sprinter Anna Curlin, junior mid-distance runner Tia Weston, freshmen sprinters Tamdra Lawrence and Jocelyn Payne ran the first place group, breaking the meet record with a time of 3 minutes, 58 seconds.
Senior distance runner Emma Gilmore, sophomore mid-distance runner Emani Griffin and junior sprinters Victoria Yocum and Taylor Adcock's team finished second in the 4×400, finishing in a time of 4 minutes, 4 seconds.
Lawrence also placed second in the 400-meter dash, finishing in a time of 58.94 seconds. Adcock also won the 400-meter hurdles with a time of 1 minute, 7 seconds.
Curlin finished second in the 100-meter dash, running a time of 12.34 seconds with freshmen hurdler Jabreuna Brimlett finishing closely behind with a time of 12.4 seconds. Brimlett also jumped 5.42 meters in the long jump to finish second.
The 4×100 meter relay team of Brimlett, Payne, Yocum and Lawrence finished second with a time of 47.59 seconds.
Freshman thrower Christina Meinhardt won the shot put with a throw of 12.07 meters. She also finished second in the discus throwing 39.15 meters.
Coach Swieton believes her team still has a lot left in the season and believes they can compete with any of the schools they face.
"When we go to the bigger meets, we're going there to compete," Swieton said.
The Racers will be competing again this Friday and Saturday at the Western Kentucky Relays in Bowling Green, Kentucky.