Story by Alicia Steele, Staff writer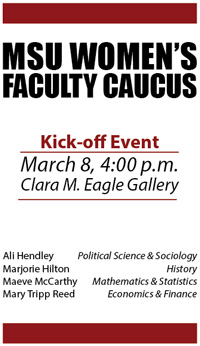 Faculty and staff are invited to attend the kick-off event for Murray State's new women's faculty caucus on Tuesday, March 8 – International Women's Day – at 4 p.m. in the Clara M. Eagle Gallery on the 6th floor of Price Doyle Fine Arts building.
Marjorie Hilton, associate professor of history, brought the idea to Murray State from another university. However, she said a women's caucus is not unique to one university.
"In fact, many universities have active women's faculty organizations," Hilton said.
Hilton said women's faculty caucuses exist on campuses such as New York University, Duke, Stanford, University of South Carolina, University of Georgia, University of New Mexico and Western Michigan.
Hilton said when she arrived at Murray State in 2011 she was surprised to find that no such organization existed, so she started talking to other faculty members about how they could work to "advocate for women faculty and to improve working conditions for all faculty." 
"I realized there wasn't any reason that I shouldn't start a women's faculty caucus," Hilton said. "After all, if I didn't, perhaps no one else would either."
Hilton said she reached out to Alexandra Hendley, assistant professor of sociology, who expressed interest in joining the group.
Hendley said the group's main focus currently is to do a faculty salary study to compare salaries among the whole faculty of Murray State.
She said they have gathered the raw data salary information for faculty across campus and they are interested in comparing the differences in pay range of men and women. They also will look at salary differences among rank and overall trends in faculty members' salaries.
Hendley said the kick-off event is an open meeting to discuss interests and concerns among all faculty. She said they have not yet had an open meeting letting faculty know about the organization, so that is their goal with this event.
She said that their members would consist of primarily women faculty members, but they hope to have support from men as well.
"They would be considered friends or allies of the caucus," Hendley said.
Maeve McCarthy, professor of mathematics, became one of the first women faculty members after Hilton invited her to join their group.
"I'm very excited about us starting a women's faculty caucus," McCarthy said. "There are many issues that arise in the workplace that the caucus can help us to address."
McCarthy said she is "particularly enthusiastic" about how the caucus will impact women faculty in STEM "where there are often fewer women and isolation can become an issue."
Similarly, Hilton said forming a women's faculty caucus at Murray State is a way of practicing what she teaches.
"I'm a historian, with research and teaching interests in women/gender and for me, the lessons of history extend beyond the classroom," Hilton said.