Story by Gisselle Hernandez, Assistant Features Editor
After a five-week-long Winter Break, an agenda brimming with events awaits Murray State students this semester. For the next several months, the university has planned musical, theatrical and entertaining functions where students have an opportunity to take a break from studying.
Miss MSU SCHOLARSHIP PAGEANT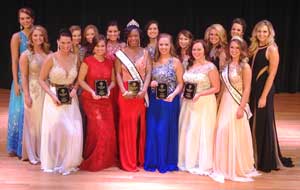 The Annual Miss Murray State University Scholarship Pageant is a contest that has been around since the 1970s and allows young, scholarly women to represent their university.
Last year, Tanelle Smith, sophomore from Henderson, Kentucky, was crowned queen.  On April 9, Smith gets to walk across the stage of Lovett Auditorium to crown the queen of this year's Miss MSU Scholarship Pageant.
The theme of last year's pageant was "Breakfast at Tiffany's," with the 15 contestants dressed in pearls and black dresses.
After interviewing an ample amount of young women, this year's contestants have been narrowed down to another 15 women.
The women will undergo three stages in the selection of the final five contestants: the five-minute interview (held earlier in the day), the stage interview and the evening gown. The final five contestants will strut their final runway walk as the judges' scores are calculated to crown this year's winner.
The pageant will take place at at 7:30 p.m. Saturday, April 9 in Lovett Auditorium with presale tickets costing $7.
All Campus Sing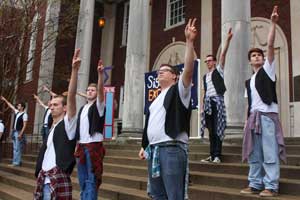 At Murray State, spring semester is where many students take the opportunity to unmask their vocal talent and flaunt their moves on the historic steps of Lovett Auditorium. For 57 years, despite inclement weather, thousands of students have participated in one of the most anticipated events at Murray State: All Campus Sing.
The singing competition was first organized by Sigma Alpha Iota, the Iota Beta chapter, in 1958 and has since been a tradition at Murray State that allows Greek organizations, residential colleges and student organizations to compete for a number of awards. Award categories include Residential Colleges, Independent and Professional Organization, Panhellenic and NPHC Sororities, IFC and NPHC Fraternities and Instrument Drive/Spirit Award.
Last year's All Campus Sing estimated 1,000 spectators huddled under umbrellas, raincoats and tarps at the Quad. This year, in case of rain the event will be held inside Lovett on the choir risers.
However, rain or shine, students seemed to enjoy the president getting pied in the face and a cat being lifted into the air to imitate Simba, two of the many highlights in last year's All Campus Sing. For this year's show, students can attend the 58th Annual All Campus Sing on the steps of Lovett Auditorium at 3 p.m. April 13.
Campus Lights: "HAIRSPRAY The Broadway Musical"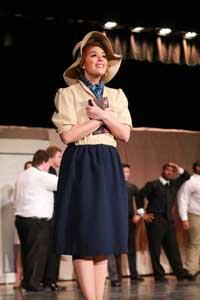 To kick off the semester, one of the bigger events the university has planned for returning students and newcomers is the annual student-produced and performed musical, Campus Lights. Members of Phi Mu Alpha Sinfonia and Sigma Alpha Iota will be hosting the 79th Annual Campus Lights production at Lovett Auditorium from Jan. 22-24.
This year's Campus Lights' performance, "HAIRSPRAY The Broadway Musical," is based on the 1988 John Waters film "Hairspray." Alan Saltzman, chair of this year's Campus Lights, said "Hairspray" was chosen because the show is well-known and also focuses on a central theme of desegregation.
"This year is the 60th anniversary of desegregation on Murray State's campus," Saltzman said. "We found it very fitting to present this show in 2016."
The melodic tradition has been held at Murray State since 1938, and this year's show has a larger cast than in previous years. It will also be the first year the production will use the newly-renovated lighting system in Lovett, so audience members can expect a more intense color scheme on stage, Saltzman said.
Tickets are $15 for adults, $10 for students and $7 for children under 12.
A portion of the proceeds raised will contribute to two music scholarships. The show will run from Friday, Jan. 22 and Saturday, Jan. 23 at 7:30 p.m. to Sunday, Jan. 24 at 2:30 p.m.
All Majors Career Fair
While some events might allow students to take a break from academics, one of them, the Annual All Majors Career Fair, allows students to network with potential employers for a future career or an internship with participating organizations.
This year's All Majors Career Fair will take place from 10 a.m. to 3 p.m. March 2.  in the Curris Center. The university hosts more than one Career Fair a semester, but the All Majors Career Fair caters to students in the following disciplines: Business, Education, Human Services, Humanities and Fine Arts. Both students and alumni are invited to attend.
This year's participating organizations include Heritage Bank, Pella Corporation Murray-Calloway County Hospital and Lincoln Memorial University, among others.
Career Services lists tips for the required business professional attire, resumé and on how to successfully navigate Career Fair at their website, www.murraystate.edu/headermenu/Offices/CareerServices/.