Story by Abby Siegel, Assistant News Editor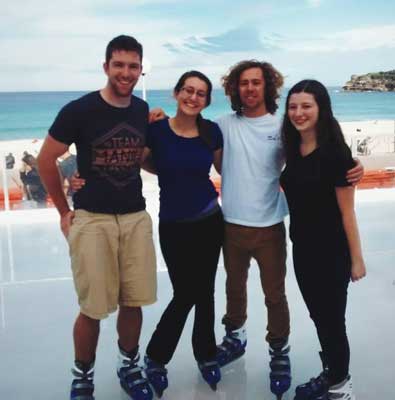 Some days she would hike for hours alongside the coastline, finding herself on her own private beach, stopping to journal or let the Tasman Sea flow between her toes. Other days she would focus on her studies at the University of Technology, Sydney, working alongside her Argentinean lab partner. The weekends consisted of going to open markets, purchasing the freshest foods and at night adventuring into the city, searching for excitement with her closest friends from across the globe. She did this while other Murray State students sat in classrooms somewhere in western Kentucky.
Shannon Wood, junior from St. Louis, studied abroad in Sydney during spring 2015, taking engineering classes to stay on track with her major at Murray State. The grading system was much harder, she said, and focused more on independent learning in big lecture halls.
"It's hard because you want to ask questions and you want to learn, but you know you talk funny," Wood said.
Wood said her dialect made it easy for others to recognize her as the American.
"As soon as I opened my mouth they knew exactly where I was from, and I didn't want to be categorized like 'the stupid American,'  because we already get bad vibes," she said.
Her friends found her accent fascinating, especially how she pronounced "calculator," as the Australian accent doesn't include the "r" sound at the end.
"They never had seen a graphing calculator before," she said. "I convinced them you could Instagram off of it."
INTERNATIONAL PERSPECTIVE
Wood discovered what it was like to be an international student, and her perspective of international students at Murray State changed because of her own experience.
"Once you know what it is like to be a 'stupid' international student, you kind of get it more," she said.
She had an experience where she was unknowingly on the wrong bus and was ridiculed by the driver. Wood said she was glad to know the language, as she realized that other people don't always have it as easy, just based on the country they live in and the language they grow up learning.
Wood also gained an international perspective through the diversity found within the citizens of Sydney.
"It is not like Murray where you can look at someone and know where they are from," she said. "When you look at someone and you never know what is going to come out of their mouth."
Many people in Australia use public transportation, constantly integrating people going many directions, representing many nationalities. Wood made friends from across the globe. Her best friend being from Canada.
"We all were so different but we fit so well together," Wood said. "I felt like I was part of the world."
WHY STUDY ABROAD?
"I think you never regret traveling – ever," she said.
The list of reasons to study abroad is extensive in Wood's mind.
People from other nations, like Europe, know many languages as they continue to learn them throughout their education. Wood said she took Spanish in high school but didn't take it as seriously as she wishes she would have – classes like this make more sense to her after having met people who are multilingual.
She said she believes studying abroad makes you more informed about the world. It teaches you how other people live, she said.
Even greater than that, leaving home taught her much about her own beliefs, something she believes you only can have by going on an adventure.
"You have to leave home to see what your beliefs are," she said. "Religion is such a consequence of where you are born."
Studying abroad also opened Wood to differences in social norms, ideas of respect and even differing ideas of distance and measurement as she pursued her studies. Of all she discovered she intends to keep hold of one Australian principle without doubt.
"I'm trying to keep the thing where you just consider everyone to be people," she said.
She said she often categorizes people by their nationality and behaviors – something common for Americans.
"Everyone is just a person, and being in such a diverse city makes it normal," she said.
Another principle: speak your mind.
"If you want something or you don't think something is right – say it," she said. "They don't 'sugar fake coat' the way we do."
Wood said the International Studies Abroad program provider offered a great Pacific option for her study abroad experience and she encourages other students to take an adventure abroad.
"You aren't with Murray students necessarily, so you get the opportunity to branch out on your own and really be yourself," she said.
Upon returning home the size of her once medium-sized city of St. Louis suddenly became terribly small.
"I find myself wondering all the time, 'was that really real?' 'Was that really my life?' and 'How do I get that back?,'" she said.