Story by McKenna Dosier, Staff writer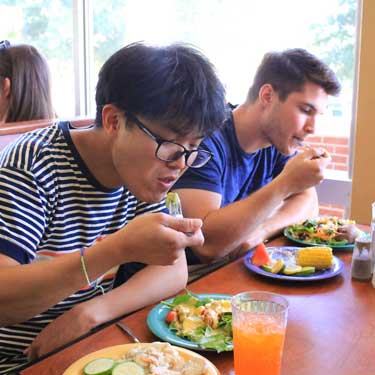 "Meatless Monday" at Winslow has been discontinued after lack of interest from the student body.
"Here at Dining Services we are always looking for ways to improve and expand our services, and try many things to that end," said Paula Amols, director of Dining Services and Racer Hospitality. "Although we always have vegetarian options at the hot line and at the soup station, as well as at Winslow, at every meal, we wanted to see how this concept would be received. It has proven to be popular at other universities."
Several students were shocked to learn this was ever an option. Jayce Joiner, freshman from Hardin, Illinois, said she went to Winslow every Monday for breakfast and there was always a meat option available.
Several other universities, relatively the same size as Murray State, have vegan, vegetarian and gluten-sensitive dining options daily, but none have an exclusively meatless day.
Northern Kentucky University in Highland Heights, Kentucky offers several different vegetarian and vegan options through their dining services, according to the university's newspaper The Northerner.
Western Kentucky and Morehead State also have daily vegetarian options at assorted dining places on campus. Meatless Monday was never intended to be entirely meatless, Amols said. Meatless Monday represented an expanded vegetarian menu compared to other days.
"We wanted to make sure there were still plenty of meat choices available for those that wanted them," Amols said.
Murray State offers several vegetarian options at Winslow as well as the Thoroughbred Room. At Winslow students can build a wrap or sandwich without meat, make their own salad and there are always meat alternatives on the hot line.
"I definitely think it should be an option," said Megan McDonald, freshman from Cadiz, Kentucky. "But it should not be an end-all thing."
McDonald said some students are on strict diets that require them to have high levels of protein, so an entirely meatless day would not be fair to them.
"Not everyone wants to not eat meat," McDonald said.
Steven Cole, junior from Mayfield, Kentucky, said it really would not bother him if there were entirely meatless days.
The only advertisement for Meatless Monday were fliers, Amols said. The fliers only were posted in the Thoroughbred Room and on the Thoroughbred Room's Facebook page.
Amols said Meatless Monday was a monthly offering and by the third month it was clear it was not popular. The entries sold on Meatless Mondays were lower than other days, so the idea was discontinued.
"I have never heard of it, which means the general population has not," said Nick Seifert, senior from Evansville, Indiana. "The carnivore-to-vegetarian ratio is probably not a feasible number. You cannot promote what no one is interested in."
So far, few students have noticed the change but would not be opposed to more vegetarian options, as long as there are still meat options for those who want them.
"I never rule out trying something again if there is a genuine interest and demand," Amols said. "But it would appear that our everyday vegetarian options are proving to be sufficient for those who follow a vegetarian diet."