Story by Tyler Long, Contributing writer
Breaking records did not lead to a victory as the University of Kentucky defeated Murray State 4,702-4,693.
In its home match against Kentucky on Saturday, the Murray State rifle team shot two program records, elevating their position from fifth to fourth in the latest Collegiate Rifle Association poll.
The match, held at the Pat Spurgin Rifle Range in Murray, began with the Racers leading the smallbore division before the Wildcats edged out a win in the air division of the match.
Head Coach Alan Lollar said the match was successful despite the loss.
"The team had trained well leading up to it," Lollar said, "They shot very well on Saturday. I believe we had six or eight personal best shots on the team with a new school record in aggregate and smallbore."
The Murray State rifle team shot a program record 2,341 in smallbore and tied its air rifle season-high with a 2,532.
One of those personal bests was achieved by freshman Eric Sloan, freshman from Oakdale, Connecticut, who shot a career-high 591 in air rifle. Breaking program records was not only a career accomplishment for Sloan, but it was also a personal accomplishment.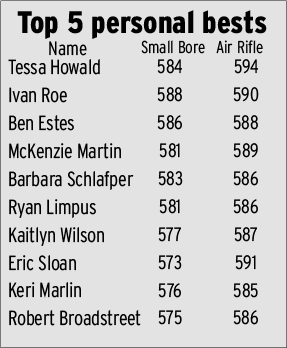 "It feels really good," Sloan said. "It's really a confidence booster for the rest of the season, and we know we can do better in the future."
Lollar also said that Murray State had some competition with the Kentucky freshmen.
"They had some freshmen that shot really well," Lollar said. "If they had not brought their A-game, we would have won. That's the best score they've shot all year."
Lollar said losses do not damage the confidence of the team, but it encourages the potential and motivation of future matches.
"We want to win against whoever we're competing with," Lollar said. "That's what we do, but we're more concerned with shooting as close to our potential as we can."
The Racers are now preparing for their next match against OVC rival, Morehead State. The home-match is scheduled for Saturday at the Pat Spurgin Rifle Range.