Story by Bailey Bohannan, Staff writer
With the Kentucky governor's race is quickly coming to a close, and with it comes the question of the state budget for the next two-year term. Murray State's leaders say they are concerned about what the next budget for public universities will be.
The next governor after being elected Nov. 3 will have less than three months to propose a $20 billion two-year state budget, of which only a piece will go to universities. The Kentucky legislature must approve that budget by April 15 and then university boards, such as Murray State's Board of Regents, can set tuition rates.
  Tim Todd, interim provost and vice president of Academic Affairs,  said state funding for Murray State over the past 10 years has been cut by about 10 percent. He said this trend could continue over the next two years. If the state funding is cut again, Murray State faces crucial cuts across campus, he said.
"I think over the last 10 years, with all the budget cuts we've had, we've pretty much trimmed all that we can trim without getting into the bone," Todd said. "I think we've trimmed all the fat that we can."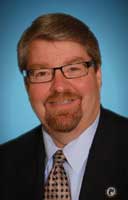 With state funding decreasing, students are affected by increasing tuition. It has affected faculty and staff by a lack of increase in salaries, and it has affected Murray State as a whole with the overall morale of the college, Todd said.
"I think one of the main things that [cuts in state funding] could affect is morale," he said. "If you keep cutting and keep cutting and keep cutting, you eventually are going to take the wind out of people's sails."
One proposal for state funding is to link some new money to the university's performance in certain areas, such as student retention rates. The universities would have to compete against their own track records in order to get  more state funding.
"Murray State is supportive of performance-based funding," said Jackie Dudley, vice president of Finance and Administrative Services.
President Bob Davies and a committee of the vice presidents put together Murray State's priorities to send to the Council for Post-Secondary Education what Murray State needs from the state. The plan is due in Frankfort, Kentucky Friday.
Not only does the faculty at Murray State support this form of state funding, some students said they do too.
"I do think it would be a great motivator," said Tyler Covington, freshman from Murray. "Money always seems like a big motivation for universities."
Many students, including Covington, consider this opportunity to perform well a great incentive, but there are concerns as to what this money would go toward.
Students, faculty and staff have opinions as to what should be on top of the list.
Rachel Jackson, sophomore from Frankfort, Indiana, said while Murray State has an attractively-low tuition, it needs additional money to keep building the new buildings and keep good faculty and staff.
From an administrative perspective, other factors should be higher on the list, including salaries, Todd said.
"I am going to advocate as much as I can for faculty salaries," he said.
Dudley said she is concerned about pensions; the less state funding, the more the university has to contribute toward pensions.
Covington said the university's ability to retain professors is a big thing. He said life at Murray State is pretty good and we don't need to improve everything; we need to keep things going.
"Personally, I think that so far the welfare for Murray State and the academics and the infrastructure is pretty well," Covington said. "So my concerns for the budget aren't improving everything, from my perspective at least. From my prospective, it needs to be containment."