40th Annual
 

Festival of Champions bring Murray High, Calloway County

Story by Alec Mullins, Contributing writer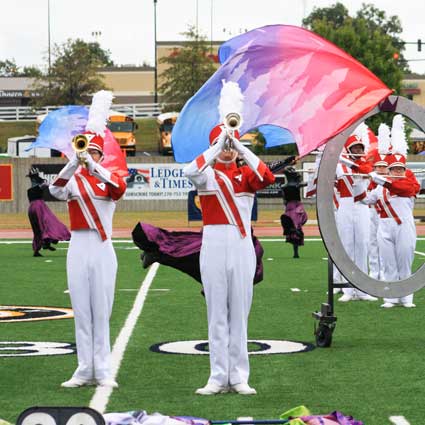 (WITH GALLERY) – Music owned the day on Saturday as Murray State hosted the 40th annual Festival of Champions at Roy Stewart Stadium.  The all-day event featured 13 bands from Kentucky and Tennessee competing not only for the top spot in their class but also for the title of Grand Champion.
The Murray High Tiger Band received the highest overall marks at the end, beating out the Calloway County Laker Band by half of a point, 65.7 to 65.2. After placing first in its class and fifth overall in the preliminary round, the Tigers had an excellent showing in the finals to earn "Best Overall Woodwinds" and "Best Overall Music Performance" to help them obtain their second Festival of Champions victory since 2012.
Performing "The Last Laugh," a show based around the iconic Joker character from the Batman series, the crowd at Stewart Stadium showed intrigue from the start.
"We were all excited to see what they had in store," said attendee Jack Williams. "My family and I caught a glimpse at their uniforms before the show and knew that something special was coming."
Timothy Zeiss, director of the Murray High Tiger Band, had high praise for his group.
"The students had a lot of energy in their run and it was definitely one of our stronger runs of the year," Zeiss said. "We still have a ways to go but I was very proud of their hard work. Winning FOC doesn't happen every year, so we really appreciate the moment."
Though Zeiss said they had an excellent performance, the Tiger Band wants to spread the spotlight on the reserve Grand Champion, Calloway County, as well.
"I think the best thing to take away from Saturday is that we have two fantastic band programs in our area," Zeiss said.
The Tiger Band will be performing again Sept. 26 at Graves County high school for the Pride of Graves County Marching Invitational and once more on Oct. 3 at the Caldwell County Festival of Pride.
In addition to the high school performances, the Murray State Racer Band also performed their show for the visiting high schools at the end of the night.  
"We love being able to show the high school kids what marching band is like in college," said sophomore Racer Band member Nick Bushnell. "Our FOC performance is a great way to let the community see how much work we put in to our shows. I think we all like to show off how much fun we're having out there as well."