Story by Alec Mullins, Contributing writer
Establishing success early is a key component in any sport and the Murray State soccer team did just that as they claimed the program's first regular season victory against an SEC team to start the season.
The past week's road trip did not bring the same level of success as the Racers lost to  the University of Arkansas at Little Rock 2-1 but rebounded against Arkansas State with a 3-2 victory.
"Little Rock has a turf field and we're not used to playing on that and it showed," said Head Coach Jeremy Groves.
The weekend was not a letdown with the win against Arkansas State coming two days later. Though the Racers had several good opportunities to score, it was Arkansas State forward Jacqueline Greer who would find the back of the net first.
Arkansas State's lead would not hold long as two minutes later a penalty kick was awarded and senior midfielder Racheal Foxley tied the game at 1-1. That score would hold going into the half, where freshman goalkeeper Alex Steigerwald replaced Shelby Haworth.
"We figured that if there was ever a game to give Alex a chance to play in, that Sunday's game should be the one," Groves said.
Both teams would score again in the second half, but the deciding goal came in the 80th minute when forward Harriet Withers avoided Red Wolves keeper Kelsey Ponder to score on an empty net.
"We lost to them last year on two penalty kicks and an own goal. I remembered that and I'm sure some of the girls did," Graves said. "It definitely felt good to get this one."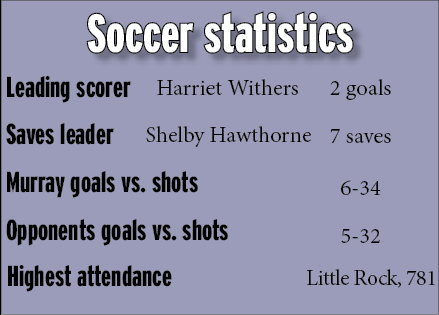 The Racers next game is at 5:30 p.m. on Sept. 19 at the University of Tennessee, that will be broadcast on the SEC Network.
The added attention doesn't bother senior forward Marissa Burroughs.
"It's just another game," Burroughs said. "We want to win them all, so it's not too different."
After Tennessee, the Racers will play on Sept. 11 at Cutchin Field for their first home game of the season against Louisiana Tech in a matchup the team is taking just as seriously as any other.
"That's something we talk about every week," Groves said. "Playing with the same level of intensity every game, no matter who we're on the field with."
After two games at home, the Racers issue with turf could resurface as they travel to Indianapolis, for a game against Indiana University- Purdue University at Indianapolis.
"We may have to go practice on the football field a few times if we know that we're playing on turf," Groves said. "I don't know if that's the answer but we've got to try something else."