Story by John Gruccio, Contributing writer
For years, we have been hearing rumors about the film industry trying to incorporate more real-life scenarios when it comes to the production of horror films.
With films like "Paranormal Activity" and "The Conjuring" jarring audiences' eyes wide open with fear, the need for something original and terrifying is also real. Believe it or not, "Unfriended" is a venture that actually succeeds for the most part.
After the anniversary of the death of one of their classmates, six friends decide to get together on Skype to catch up.
However, they are confronted by the past when a mysterious seventh person joins their group chat and starts asking questions about the death of this classmate. Seeking vengeance for her death, this mysterious figure will kill one friend after another until they find out who led her to kill herself.
"Unfriended" stars Shelley Hennig, Renee Olstead, Will Peltz, Moses Jacob Storm, Jacob Wysocki, Courtney Halverson and Heather Sossaman. Levan Gabriadze directs the film with a script by Nelson Greaves.
First off, let it be known that despite this film's flaws, the concept is actually a pretty interesting one. A girl from class kills herself and then apparently comes back from the dead to pick off her frenemies while they are all on a Skype call.
Where is director Josh Trank when you need him for a film like this? However, where this film lacks in dialogue and overall acting skill, the film is actually quite thrilling and even more so chilling.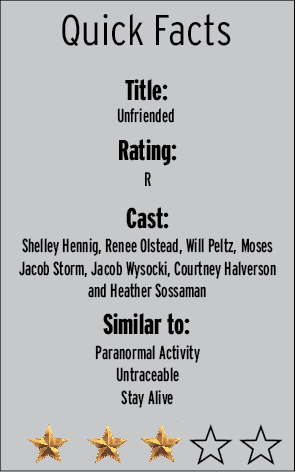 Besides the cast of mostly unknown actors, the overall film vibe is basically that of a normal day real life. We have a group of friends meeting up together talking about normal stuff like Facebook, videos on YouTube and music to check out on Pandora. We really get the impending sense through the film that we are all really alone despite technology, which is in itself depressing to think about.
One of the most intense things about this movie is the fact that these people are being punished, some violently. However, they deserve every bit of what they are getting. It's a rare and  genuine treat to see this kind of plot scenario in a supernatural film. Now, when it comes to the horror, please proceed with caution. 
This film is nothing compared to the likes of "Evil Dead" or even "Saw," but If you are squeamish to blood and gore, I would bring a friend with you.
The film was originally released as "Cybernatural" at the Fantasia Festival in the summer of 2014. It was released in theaters on April 17, 2015.
This film is original and a good scream flick. I hope that the film's producers will take these next words seriously.
Please do not make a sequel! This film is fine how it ends. Give us another good idea from the drawing board, not a flawed horror sequel. That's the end of my rant.
If you are looking for a good chill that might keep you away from your computer, I recommend you check out this film.