Need for balance causes inadvertent results to men's sports
Story by Blake Bernier, Staff writer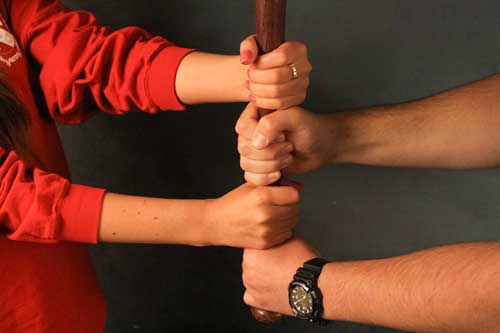 A review of sports programs offered at universities across the country shows that nearly twice as many women's sports are available in comparison to men's sports – a continuing ripple effect of Title IX.
That's not quite the case at Murray State. Beyond the coed rifle team, there are five men's sports that are scholarship-funded compared to eight for women's sports.
Because of the complex way that scholarships are calculated – taking into consideration in-state versus out-of-state tuition – Murray State had more scholarships available for men's sports in 2014-15.
The original purpose of the 47-year-old federal law was to create equality between genders in the academic and athletic areas of universities.
"No person in the United States shall, on the basis of sex, be excluded from participation in, be denied the benefits of, or be subjected to discrimination under any education program or activity receiving federal financial assistance," reads the first line of the bill.
In 1972, when Congress passed the bill, the number of women represented in collegiate sports was 29,997 compared to 170,384 for men.
In the meantime the number of girls and women participating in all levels of athletics through college jumped from 295,000 in 1971 to 2.8 million in 2001, according to the National Coalition for Women and Girls in Education. Girls made up 41.5 percent of all varsity athletes in 2001.
In order to comply with the new law, schools had to create a level of equality in sports offered as well as scholarships. This meant numbers would be tabulated each year to determine if a school had met the requirements. 
According to the NCAA website, "Under Title IX there are no sport exclusions or exceptions. Individual participation opportunities (number of student-athletes participating rather than number of sports) in all men's and women's sports are counted in determining whether an institution meets Title IX participation standards."
One issue with this is that there are no women's sports equivalent to football. Football takes up a majority of the scholarships allotted for the men's athletics across the nation and in order to balance it, multiple women's sports are required. Murray State offers the equivalent of 63 scholarships for the football team.
Coaches can award 63 full rides to players or provide partial scholarships to more players – as long as the total amount adds up to the equivalent of 63 scholarships.
The sport with the next highest number of scholarships is women's track and cross-country with the equivalent of 18.
"Title IX does not require reductions in opportunities for male student-athletes," according to NCAA.org. "One of the purposes is to create the same opportunity and quality of treatment for both female and male student-athletes. Eliminating men's sports programs is not the intent of Title IX. The intent of Title IX is to bring treatment of the disadvantaged gender up to the level of the advantaged group."
Reductions may not be the intent of Title IX, but that is the effect that it has on athletic departments across the nation.
Tulsa University, a school once known for baseball, was forced to eliminate baseball in 1980 entirely in order to balance the men's and women's sports. Its baseball team reached the College World Series twice, once in 1969 and again in 1971, and finished as high as second in 1969.
"Rising cost of the sport and the expense of establishing full women's sports at the school made the decision necessary," according to an April 12, 1980 article in Victoria Advocate.
Margaret Simmons, a member of the NCAA Track and Field Hall of Fame and an alumna, said she believes there needs to be some form of change because Title IX forced Murray State to eliminate a once successful men's track team.
"We had to drop men's track because of numbers because we had too many men's athletes," Simmons said. "So we had to reduce the number of men athletes and the easiest way to do it was to take away men's track and add golf, softball and rowing in order to balance the numbers."
Women's golf was added in 1993 and rowing began as a club sport in 1996, with the women's team being elevated to NCAA status in 1998. In 2008, softball was introduced and replaced rowing.
After changing men's track to a non-scholarship sport in 2004, Murray State faced challenges in maintaining a roster and meeting academic progress rates as per NCAA guidelines.
This led to the sport being cut completely from the University's athletics program in 2006.
For the time being, Murray State's proportionality is stable, but that could change in the future. Since 2007 Murray State's enrollment trend has been roughly 60 percent female and 40 percent male.
"I believe we are currently in a strong position as it relates to our ability to be in compliance with Title IX," said Director of Athletics Allan Ward. "Now should the trend in enrollment swing more toward females in the future, it would certainly cause us to look at what we'd need to do to stay aligned proportionally."
Simmons has a simple solution to halt the cutting of programs: don't count football when counting the numbers to verify compliance.
However, Ward believes that without football in the mix, the growth in women's sports likely wouldn't have been as dramatic, and some of the men's sports eliminated might still be competing.
It's not a new idea by any means. In 1974, just two years after the law's enactment, U.S. Sen. John Tower of Texas, proposed an amendment to exempt the revenue-producing sports from Title IX compliance.
The amendment was rejected. Less than a year later a revised version appeared in Congress but it died in committee before reaching the House floor.
Ward said he thinks a change to the wording of Title IX to exclude revenue producing sports could benefit universities nationwide but he doesn't see it happening anytime in the near future.