In the spring of 1955 hundreds of people chanting and yelling racial slurs stormed the gates of other universities across the South in protest of the Supreme Court's order to the lower federal courts to require desegregation as quickly as possible.
The order came as a result of Brown v. Board of Education, in which the Supreme Court determined that having separate schools for people of different races was inherently unconstitutional.
In response to the Supreme Court ruling, Murray State acted immediately, admitting the first black student, Mary Ford Holland, for the summer semester of 1955.
This year marks the 60th anniversary celebrating Holland's enrollment.
Holland, who died in 1999 at the age of 92, enrolled at the University when she was a 48-year-old teacher who strongly wanted a college degree.
Although local police and the president of the University escorted her on her first day of class, her presence on campus caused little to no stir among students enrolled at Murray State at the time.
The Murray State News tried to contact Elnora Ford, Holland's niece, but she was unable to reply. In an interview with the Paducah Sun in 2005, she said her aunt told her she was only the victim of a racial slur once while she was on campus, and she didn't feel like she had been a victim of discrimination.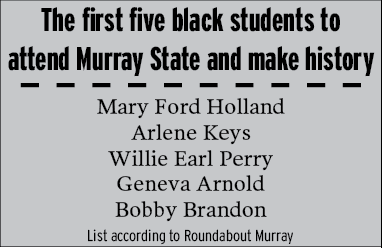 Holland's mother had instilled a dedication to education as she homeschooled her daughter from a young age while the family lived in Cadiz, Ky.
When she qualified for the fourth grade, her family moved to Eddyville, Ky. Later, she graduated from a boarding school in Paducah, Ky., before attending Western Kentucky Industrial School.
Ford said Holland received her first teaching certificate in 1933, but didn't graduate until 1935.
"That was the standard practice back then," she said. "She had been teaching since 1933 in one room school houses mostly in Lyon County."
Before 1940, 21 percent of black people in the U.S. enrolled in college and only 7 percent of them graduated from college, according to a study conducted by Berkeley University in 2001.
Ford said Holland never gave up on her dream to have a college education.
In 1941, Holland started taking correspondence courses at Kentucky State University and traveled to Frankfort, Ky., in the summer for part-time classes to try to earn her bachelor's of science degree.
Murray State recruited Holland in 1955 to further her education and she graduated from Murray State in 1961.
Other universities in the Commonwealth opened their enrollment to black students as desegregation swept the South.
The University of Kentucky enrolled its first black students in 1949 and Western Kentucky University enrolled its first black students in the summer of 1956.
More than half a century later the following universities report enrolling:
740 black students at Murray State

2,000 black students at University of Kentucky

2,101 black students at Western Kentucky University.
The Murray State Alumni Association and Murray State have joined together to host events throughout the year to celebrate historic figures such as Holland because "they represent hope, endeavor and achievement for black students at Murray State," according to the Alumni Association's website.
The association is also planning a summer homecoming featuring a Freedom Fest Parade, Ice Cream Festival and BBQ on the Square.
Story by Mari-Alice Jasper, Assistant News Editor