Every day, Murray State students, faculty and staff exercise their freedom of speech in classrooms, the residential colleges and walking across campus: a right granted to them by the First Amendment of the Constitution.
Every day, these same constituents are in danger of being unconstitutionally silenced and punished by the University for using protected speech, according to a new study by the Foundation for Individual Rights in Education, or FIRE.    
FIRE's 2014 study, published in their "Spotlight on Speech Codes 2015," found that of the 437 private and public universities and colleges they reviewed for First Amendment violations, 55.2 percent had policies infringing on protected speech, including Murray State.
"That doesn't surprise me," said President Bob Davies. "We require, for instance, if someone is going to protest that there is a registration process. FIRE would look at that as censoring. We're looking at that from the perspective that we need to be aware of what is going on on-campus so that we can, if necessary, be responsible for the safety of our students, faculty and staff."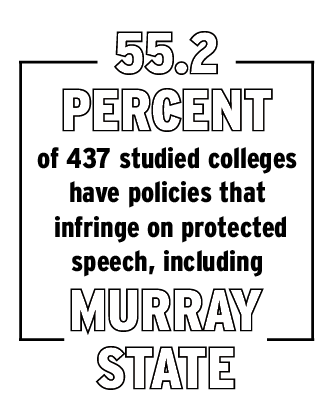 The University's policy regarding the use of outside space is only rated by FIRE as a "Yellow Light" policy, however.
In total, the University was reviewed to have three "Yellow Light" polices and two "Red Light" policies, those which "both clearly and substantially restrict freedom of speech."
However, the University was also reviewed to have two passing "Green Light" polices.
Davies said while FIRE and Murray State agree that universities should provide the best environment for students to speak freely, it is the definition of "best" that has caused tension.
"I think one of the most amazing components of an American university is that we are the marketplace of ideas," Davies said. "If we impinge on that freedom, on that personal security, we're not going to advance great ideas; we're not going to advance new theories to deal with issues that befall us."
Murray State's failing "Red Light" ratings are based upon the Murray State Women's Center Sexual/Peer Harassment policy and the University's Internet Usage Policy, both of which were found by FIRE to be overly broad in their defining of harassing and inappropriate behavior.
Dana Howard, social media marketing manager, said students' posts have been removed from Murray State's social media accounts in the past, but only if they contained offensive language or were slanderous to the University, staff or faculty members.
"We have never deleted negative comments just because they're negative," Howard said. "Anyone who wants to censor like that shouldn't be on social media because that's the whole point. We have a policy that if you have something you want to complain about, we're going to be OK with that within bounds."
Azhar Majeed, director of FIRE's Individual Rights in Education Program, said their rating system is based purely upon the policies a school has, not how they have been applied in the past or any specific legal cases that have been brought up.
He said "Red Light" policies are still dangerous to the students, faculty and staff members' rights even if those policies have never been enforced.
"What we see over and over again is that when universities have these types of unconstitutional speech regulations in place, they inevitably will apply them against a student or a faculty member's speech simply because it's controversial, it offends somebody or it represents the minority viewpoint on campus on a particular issue," Majeed said.
Harmon Wilson, senior from Hazel, Ky., said there have been situations in her classes where she has been afraid to openly express her opinion.
"I've had science classes where if your argument has any sort of religious tones, it's automatically wrong and I've had liberal arts classes where if you take a more conservative view, you'll be asked to leave," she said. "It's kind of a slap in the face."
Taylor Jenkins, sophomore from Bowling Green, Ky., said she has never felt as if her speech or writing was limited or censored in her classes or on campus.
"If you say something you believe in, some people may not feel the same way and may get offended," Jenkins said. "But (free speech) is important. It allows people to learn more if they can express what they think about a topic and can hear others' opinions without being shut down."
The number of "Red Light"-rated universities has dropped approximately 25 percent since 2007, most into the "Yellow Light" category, as FIRE has worked with those universities to change the wording of their polices so as not to violate the First Amendment.
Majeed said unfortunately Murray State has not responded to FIRE's concerns and communications in the past attempting to bring to Murray State's attention the failings of their policies.
"I do understand students' level of surprise or perhaps confusion with where this rating comes from," he said. "But we are talking about public institutions that are taxpayer-funded and fully bound by the First Amendment. So for them, there really is no justification for having these policies that clearly are going after speech that's protected."
Story by Ben Manhanke, Chief Videgrapher