A child dies approximately every 30 seconds somewhere in the world from an illness contracted from drinking contaminated water,  according to the World Health Organization.
Catch the Wave, which began in fall 2014, is a student-led organization to stop it.
Partnered with Living Waters for the World, Catch the Wave aims to help place water purification systems in towns and cities around the world.
On its own, Living Waters has placed and helped maintain more than 600 systems in 25 different countries.
WAVE has joined Living Waters and created the project "Catch The Wave," meant to bring awareness and educate the public about the lack of clean water around the world.
Members of WAVE also want to generate funds for more purification systems and participate in the installation and maintenance of the systems.
Within one academic year, the organization has recruited 75 members.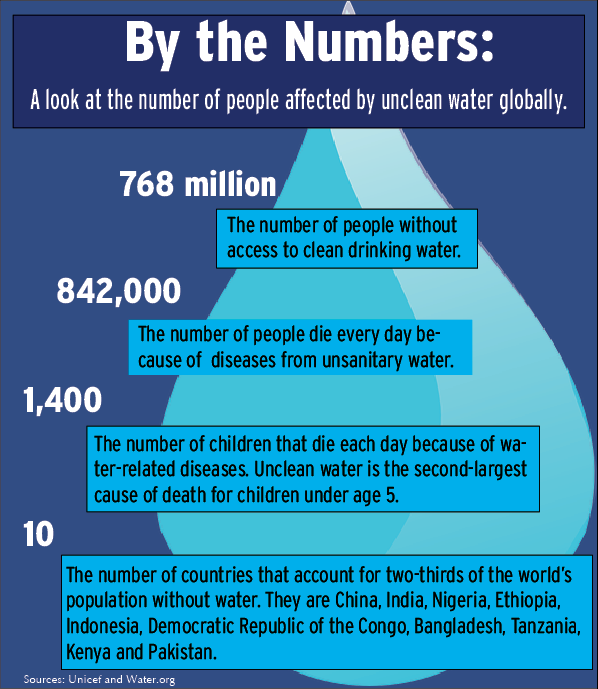 "The organization is looking for more students to get involved in this life-saving program," said Roger Weis, professor in the College of Education and Human Services.
All potential members should visit the Catch the Wave office in the Carr Health Building, Weis said.
Membership is limited to faculty, staff,  alumni and students at Murray State, according to Article II of the organization's bylaws.
Weis said the organization is raising funds through contributions to support the goals of the organization, $200 has been raised since Catch the Wave started.
The organization wants to provide a variety of educational experiences that will encourage its members and the public to broaden their knowledge about clean water access.
Weis said contributions to the organization will go a long way in saving the lives of children and adults around the world.
Donations can be made in check form and delivered to the Catch the Wave office in Carr Health, Weis said.
Story by Emmanuel Adu, Contributing writer