David Burdette will serve as interim chief facilities management officer until the University conducts a national search for Kim Oatman's permanent replacement.
Burdette retired in July 2013 as vice president of finance and administrative services and treasurer of the board of trustees at Central Michigan.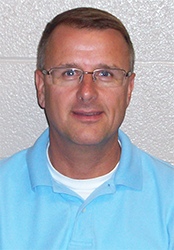 Burdette began his career in higher education at Buffalo State College in New York, then served in the administration at State University of New York at Fredonia, Radcliffe University in Virginia and Indiana University in Pennsylvania. He is a retired officer from the U.S. Army.
Jackie Dudley, vice president of Finance and Administration Services, said Murray State is fortunate to have Burdette join the staff.
She said Oatman will be missed, but Murray State will be in good hands.
Oatman accepted a similar position at the University of Louisville.
He starts Oct. 27.
Oatman said the move was a good opportunity for him that allowed him to be closer to family.
This shift in leadership comes as the University begins three large construction projects.
The Breathitt Veterinary Center in Hopkinsville, Ky., the construction of New Franklin Residential College and the new Engineering and Physics Building are underway.
Oatman said his departure will not affect their progress.
Staff Report