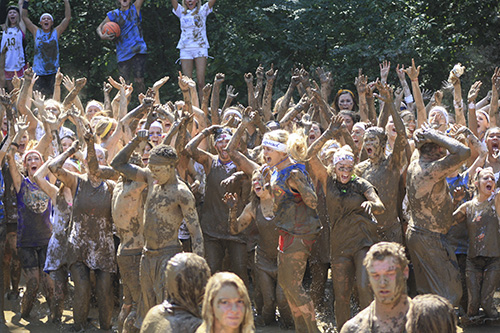 Lambda Chi Alpha held its annual Watermelon Bust Saturday and proved once again that Greeks are not afraid to get down and dirty to help the community.
In a mud pit spanning several dozen feet, Panhellenic sororities competed for the Watermelon Bust overall winner title by participating in several events such as tug of war, over and under watermelon pass and a watermelon crawl.
The week prior to the event, sororities also earned spirit points by participating in a social media contest, a rebate night, canned food pyramid contest and a volleyball contest.
However, the competitions were only second to the purpose of the philanthropy, which was to collect and donate money and canned foods for the Murray Calloway-County Need Line and Feeding America.
Lambda Chi member Shane Leonard, senior from St. Louis, said Watermelon Bust is a national event for the fraternity. The main event is usually held on one day, but the Murray State chapter has made fundraising span an entire week.
He said that last year, approximately 40,000 pounds of canned goods were given, an amount that can feed about 10,000 to 12,000 families.
He said fraternity hopes to see the same amount of food donated as it did last year.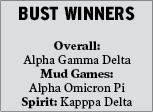 "This year we're hoping to raise about the same," Leonard said. "I believe our goal was to be up to 60,000 pounds this year."
The Watermelon Bust week events raised $1,400 and more than 10,000 cans of food.
In addition to the canned food drive, Leonard said the fraternity also collected toys to give to families.
Lambda Chi Alpha Vice President of external affairs, Patrick Martino, junior from Paris, Tenn., said the event takes hard work, but that it is worth the effort in the end.
"It takes a lot of nights of losing sleep getting paperwork done and it takes a lot of getting people together," Martino said. "I've been to every sorority meeting. I've been to every Panhellenic meeting. I've been everywhere and have talked to everyone. It takes a lot to get it going."
With high energy surrounding the Bust events, Martino said the mud only makes it more fun.
He said whether people are young or old, everyone likes to play in the mud sometimes.
Martino said the best approach to the mud pit is to cannonball.
"Just sprint and cannonball it," he said. "See if you can make some ripples."
Bust ends a week of giving and is a moment for the Lambda Chi and the Panhellenic sororities to celebrate their collective efforts.
"This is the celebration of all the food we've raised all week for Need line," Martino said. "This is a way to give back to ourselves since we've been giving back to the community by raising cans, raising food and raising awareness for hunger in the area."
Alpha Sigma Alpha member Brennan Handley, junior from Springfield, Ill., participated in the celebration of mud, watermelons and giving back.
"It's so fun to get out there in the mud and play with your sisters," she said. "And it's also for a good cause."
Handley said she thought the event was a good combination of philanthropy and fun, and said the games aren't boring because0 they're all held in the mud pit.
For Handley, she said the best approach to the giant mud pit is to just go for it.
"You just have to jump right in," she said. "Don't walk in. I just slid right down the hill and that was the best way to go in."
Story by Mary Bradley, Assistant News Editor