Born and raised in Sumter, S.C., Lee Brice is a rising country star and former football player for Clemson University. Brice has written many songs that he has performed himself, as well as song performed by big name country music singers like Jason Aldean and Keith Gattis.
Brice released his third album "I Don't Dance: Extended Edition" Sept. 9 in stores, iTunes and Amazon.
Like most country albums, "I Don't Dance" features topics of summertime fun, women and friends. The album provides a variety of different tempos and styles in its 16 songs. Each track also uses guitars and percussion instruments.
Although a lot of the concepts in the album seem to be consistent with traditional country music, the styles of the songs favor a rock genre or modern country. Half of the album is upbeat and fast paced while the other half has a softer, sentimental rhythm. There were also some interesting lyrics in the album.
The song "Girls in Bikinis" compared watching girls in bikinis to watching slinkies walk down stairs. In a completely opposite direction, the song "Hard to Figure Out" discussed a woman who lost her husband in a car crash and how he learned to examine his life from her words. While the two songs elicit opposite moods, they provide a diverse set of life experiences and emotions.
The song "Good Man" blends a hip-hop style with modern country additions. In contrast, "That Don't Sound Like You" mixes elements of traditional country music with modern country foundation.
One of the most successful songs on the album is "I Don't Dance," and for good reason. The lyrics are approachable by all ages and genders. It is a slow-paced song that discusses love in a unique way that appeals to a large audience. That track alone has received more than nine million Spotify plays. Matt Bjorke, author of the "Top 30 Digital Singles – August 27, 2014" wrote that as of August 2014, the song sold 918,000 copies in the U.S. since the song was released earlier this year as a single.
Overall, the album was good. It lacked creativity in introducing new themes for songs but the tracks were catchy and interesting. There were two or three songs that were enjoyable to listen to. These songs had great tempos and lyrical value that was appreciated.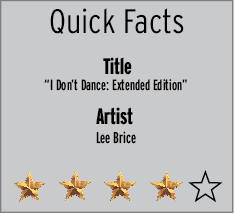 The album is consistent with the fresh approach to the country genre but has customary values spread throughout the tracks. Many songs blended together and did not differentiate enough to become strong singles which can be explained by the same general theme that was provided throughout the sixteen tracks. "I Don't Dance: Extended Edition" seems to be successful amongst the audience that it plays to and offers tracks that may resonate with listeners who are not country music fans as well.
The album is currently No. 20 in the iTunes store. Brice also has two other albums that offer the same general style and structure. "Hard to Love" was released in 2012 and has 13 tracks while "Love Like Crazy" was released in 2010 and has 12 tracks.
Story by Tiffany Whitfill, Staff writer