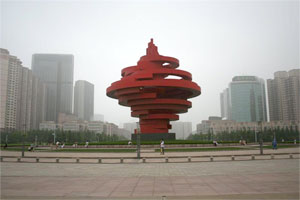 In the middle of International Week, at a special signing ceremony Interim President Tim Miller announced Murray State's further partnership and welcomed its new sister university, Qingdao Agricultural University.
The event was attended by a number of Murray State faculty and staff and many of the approximately 50 QAU students who are in the process of studying abroad at Murray State.
This announcement was the culmination of several months of deliberation this fall by the Murray State Asia Initiative Task Force headed by Luis Canales, director of the Institute for International Studies.
Since 2006, Murray State and Qingdao have been partners in both the form of QAU students studying abroad in Murray and in a faculty exchange program. Annually, for several weeks, faculty from both universities have a chance to travel abroad and participate in a number of educational opportunities.
Canales said this already existing, and long-standing relationship was the main reason they chose to recommend this partnership to the University.
This summer, he said, Murray State will be sending eight faculty to QAU, a mix of those from the Institute for International Studies and Teaching English as a Second Language faculty as well as six students, three currently enrolled in Chinese classes at Murray State and three TESL students. Canales said they hope to not only establish a more in depth study abroad experience with QAU, like Murray State's Regensberg study abroad program, but also to use this closer relationship to develop offering a possible Chinese major or minor here or to establish a joint-degree program.
"One idea is to develop a joint-degree program in TESL in which our faculty will actually be going there to teach some course for them," he said. "A TESL program seems to be the easiest to implement and something QAU is very interested in."
He said part of the intention of this trip this summer is for the TESL faculty to get to know QAU, specifically their English department and to get some idea of what programs the University can actually develop.
Jay Morgan, provost and vice president of Academic Affairs, said this trip during the summer will be a pilot and that hopefully by the summer of 2015 they will be sending a group of 20-25 students.
"It's going to start small because we're almost in January," Morgan said. "We really don't know what the demand for this program is going to be. We may have five students and we may have 25 students who express interest in going."
He said they also hope to grow the number of students coming from QAU to Murray State form 50 to possibly 75. Morgan said with QAU being approximately the size of the University of Kentucky, the University will be able to market its program to a large number of students.
Xue Yang, one of the exchange students from QAU, said she really appreciates the relationship between her university and Murray State and would recommend the program to students from both her school and Murray State participate if they get the chance.
While the work to actually develop a study abroad specific program and partnership with QAU is still ongoing, Canales said the task force alreadyhave begun to identify other schools in Asia, specifically Taiwan, and some schools in Latin America as possible future sister schools to help continue the internationalization of Murray State.
Story by Ben Manhanke, Assistant News Editor
Related articles