Faces & Places is a weekly series that profiles the people and places of Murray and the surrounding areas. Every person and every place has a story. Let us tell it.
When walking on campus you often see a lot of the same clothing items. Sundresses with cowboy boots, sweats and the usual frat wear, short shorts and polos or T-shirts.
Kyle McDonald and Derek Unterreiner, both freshmen from Perryville, Mo., noticed the fashion trends – or lack thereof – on campus and decided the were going to make a change.
The business partners decided after seeing the repeated outfits on campus that it was time for a change. It was then that they started Northern Wool.
"The idea really just came to me one day when I was sitting in my dorm room," McDonald said. "I've always been good at graphic design, so I felt like this is something that I could be good at."
The line incudes both short-sleeve and long-sleeve T-shirts made of soft material and are reasonably priced. Most of their shirts bear Northern Wool's logo of a sheep.
The self-proclaimed graphic designer and his partner took to Kickstarter to raise funds for their line and capture the attention of District Lines.
District Lines is an online store that sells anything from clothing to CDs and stickers from your favorite bands, clothing companies, YouTube stars and certain record labels.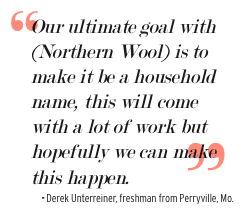 "District Lines is a printing company that also has stores online," McDonald said. "We aren't with them yet, but we are trying to raise funds (through Kickstarter) to get with them. That's what our main goal is right now, because it would expand the Northern Wool clothing line so much."
Ultimately, the duo would like to make its clothing line a household name. Until then, the two have smaller goals they would like to accomplish. Some of these goals include starting a female line, having other stores sell their clothes and creating a partnership with District Lines.
"Our plan is to (create a female clothing line)," Unterreiner said. "Our clothes we sell right now are sort of unisex, but we will have more female-targeted clothing in due time."
Although they are just beginning, the partners have worked hard to get the business off the ground. They currently have a website where the shirts can be purchased for a low cost and their Facebook page offers deals to their customers.
"Things have been going really slow, but it seems that the people that buy our shirts love them; we just have to get more people to do that," McDonald said.
Before they can do that, they want to work with what they have created so far and partner up with District Lines.
"The main reason we created Northern Wool was to create a cheaper option to 'frat wear,'" their mission statement reads. "Other brands charge outrageous amounts, and we wanted to create something that not only looked great, but that every college student could afford."
Story by Savannah Sawyer, Features Editor