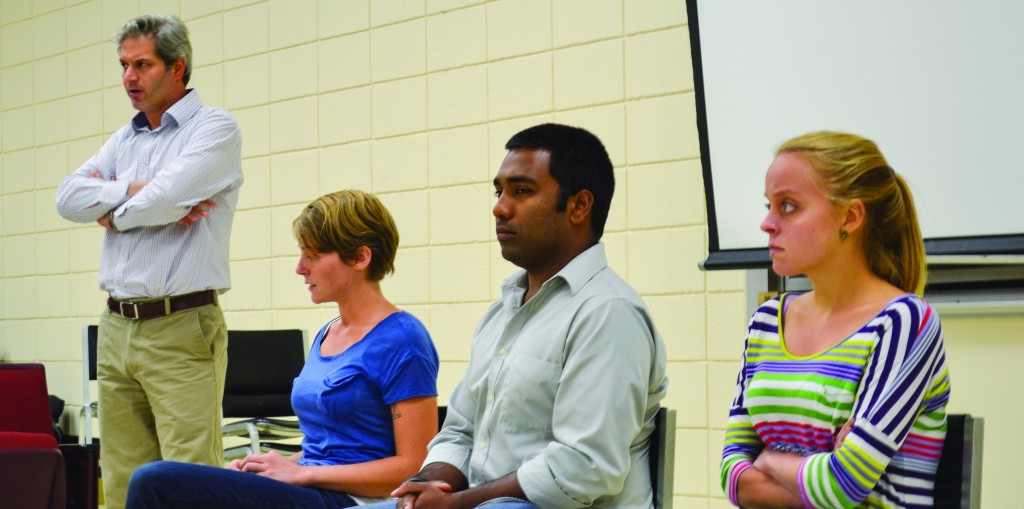 Theater Delta pulled at the heartstrings of Murray State students and faculty Tuesday night in Mason Hall Auditorium as it presented interactive plays to the audience.
In honor of National Suicide Prevention Week, the Murray State Women's Center welcomed Theater Delta to campus to raise awareness of issues surrounding students on college campuses across the nation with its performances of "Accepting of Others?" and "Down in the Dumps?"
In late July, Ben Saypol, director of Theater Delta, contacted Murray State about his program and what it has to offer. Women's Center Director Abigail French then decided to look into their performances.
"I called Ben Saypol and talked to him about the different things they do," French said. "The director of Counseling Services and I decided we really wanted to bring the depression and suicide performance to campus to raise awareness."
Based out of North Carolina, Theater Delta is dedicated to promoting social change as well as engaging its audience in critical thinking and solving the problems the actors portray on stage.
"We do our homework and research the topics we present to create realistic situations," Saypol said. "We let the audience drive the conversations and look for keywords to help students understand the complexities of the issues we portray."
Each performance falls under different categories which include health and wellness, social justice, academics and medical issues.
"These performances really get the audience thinking about how to react and respond to different situations they will encounter," French said.
Theater Delta is accustomed to performing for audiences of all sizes. The company adapts to engage even the largest audience, as many as 500 people. Tuesday night, however, Theater Delta performed for approximately 50 students during each performance.
To begin, Saypol stood in the middle of the room, surrounded on three sides by the crowd. He addressed the topics that would be covered in the skit. Audience members then watched as the three characters acted out a scene very similar to everyday interactions on a college campus.
Later, the characters were confronted by the audience members and answered questions about the actions they chose and words they said. After an extensive conversation about the issues presented in the scene, members of the audience were given the opportunity to see the scene again. This time, however, they were allowed to yell "stop" and replace a character in the scene and handle it differently.
During the first performance, "Accepting of Others?,"  the interactivity allowed students to practice how to deal with issues such as racism, homophobia and sexism. In the following performance, the students confronted a young woman struggling with depression and offered solutions to aid her in recovery.
Overall, the students and faculty participated by raising questions about what is acceptable in society and the reasons behind those social norms. The interactive theater mediated these conversations in order to create open dialogue about social issues and encourage change in the students who attended.
Story by Hunter Harrell, Assistant Features Editor