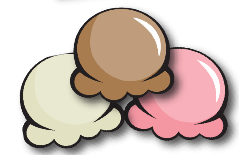 The sweetest festival in Murray will take place this weekend in downtown Murray on the Court Square.
Offering a plethora of contests and activities for all ages, the annual festival always brings a crowd.
Today, locals can taste-test homemade ice cream made by local charities and nonprofit organizations during the Murray Rotary Club's Scooper Bowl.
"The Ice Cream festival used to take place in the park and this is its third year downtown," said Stephanie Butler, director of Marketing and Communications for the Murray Convention and Visitor's Bureau. "When it moved downtown, the Rotary Club wanted to be involved and have a way for nonprofits to earn money and raise awareness for their organizations. That's how the Scooper Bowl started."
This year marks the fourth annual Scooper Bowl competition.
For the contest, nonprofit organizations prepare homemade ice cream and festival-goers vote for their favorite flavor. For $5, a person may sample all of the homemade ice cream and submit one vote.
There is $4,000 in prize money to be divided according to the percentage of votes each charity is awarded.
Some of the nonprofit organizations participating this year are Kirksey United Methodist Church, 4-H Club of Murray and Lost But Loved Animal Rescue.
The Scooper Bowl is today from 6 to 9 p.m. There will be ice cream on Saturday, as well, and plenty of it.
"There is going to be a really large variety (of ice cream)," she said. "There will be four different coolers, and in each cooler, I believe there is six or eight different flavors and they're all different between the coolers. There will be probably 40 different flavors."
Butler said ice cream flavor classics like vanilla and chocolate will be available as well as favorites such as Rocky Road and Mint Chocolate Chip, among many other flavors.
All of the ice cream is made by Purity Dairy and is free from noon to 5 p.m. Saturday.
Also on Saturday is a karaoke contest known as Ice Cream Idol.
For this contest, there are two divisions: one for ages 12 and under and another for ages 13 and above. Each division will have a winner who will receive the prize of one year of free Purity ice cream.
Due to a large number of participants in previous years, all contestants should have pre-registered before Saturday.
The competition begins at noon.
Story by Anna Taylor, Staff Writer