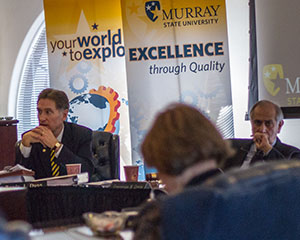 The fate of President Randy Dunn's stay at Murray State has been decided. Members of the Board of Regents voted 7-4 not to extend the longtime executive in a controversial quarterly meeting shortly before Spring Break.
Dunn's contract is set to expire in June of 2014 and the board decision to vote came at the end of the meeting, when board Chairman Constantine Curris said a majority of the board had indicated to him they were ready to decide and did not want to wait until the next board meeting in May.
Prior to the vote, the board passed the minutes from the January meeting of the ad-hoc committee that included Curris, Vice-Chair Marilyn Buchanan and Stephen Williams.
Faculty Regent Jack Rose, Staff Regent Phil Schooley, Susan Guess and Jenny Sewell voted in favor of renewing Dunn's contract, while Student Regent Jeremiah Johnson, Curris, Buchanan, Stephen Williams, Harry Lee Waterfield, Sharon Green and Jerry Sue Thornton voted against the renewal.
After the vote, Buchanan moved to create a search committee to find the next University president, which passed by a 9-0 vote. Schooley and Rose abstained.
With controversy surrounding the vote, Curris denies allegations of politics or personal agendas playing a role in board's decision.
Dunn thanked the board for the opportunity to serve and said he would be pursuing other venues. He then promptly left the room following the adjournment.
Story by Meghann Anderson, News Editor.