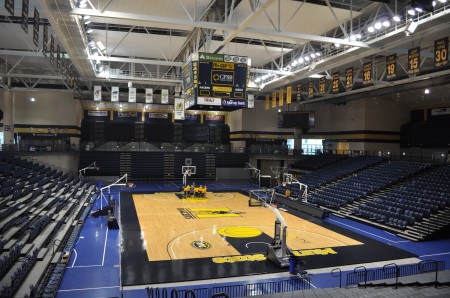 Things are looking up for the Racers (3-3) as they draw closer to conference play.
After three consecutive losses to Western Kentucky, Indiana and James Madison in the opening of its season, Murray State left the court with an incentive to increase shooting percentages, prevent turnovers and improve offensive rebounding.
Starting with a tightly clinched 76-68 victory over Longwood, the Racers continued in the right direction. The combined efforts of senior guard Mariah Robinson, freshman guard Erika Sisk and junior guard Erica Burgess changed the outcome of the game.
Against Lipscomb, Murray State kept turnovers at a season low of seven and made it to the free throw line 25 times.
Head Coach Rob Cross said he is pleased with the dominance at the free-throw line and increase in offensive rebounds.
"We've done a great job on the boards," Cross said. "We're making it to the free throw line and we're taking really good care of the basketball."
Even though the Racers are showing a pickup in wins and offensive dominance, field goal percentages plateaued at 27 percent in their game against Lipscomb. Even though the Racers are successful at this point in the season, Cross said shooting percentages will have to improve before conference play to win games.
"We're crashing the offensive boards extremely hard," he said. "We can't rely on that. We've got to shoot the ball better. That's no question. We've got to find someone who starts putting the ball in the basket. We're missing layups, we're missing mid-range shots and we're missing three's. Our players understand that they have to step up and they know what they have to do."
In their next game against Ball State Thursday, the Racers will be paired up against an aggressively defensive team with a size advantage.
Cross said the challenge is posed with good coaching and shooters like point guard Brandy Woody, who scored a team high 14 points against Stetson last week.
"They're a well-coached team," he said. "They've struggled a bit shooting the ball on the perimeter, but they've got big, strong bodies. They're going to be aggressive and physical on the defensive end."
Another incentive for the Racers going deeper into their schedule is allowing Sisk's role to increase and for her to grow and learn as an athlete.
The OVC Freshman of the Week shot 1-7 in her performance against Lipscomb and ended the game with five points and two rebounds.
"Defensively, she kind of took a step back in the Lipscomb game," Cross said. "She's got a lot of learning to do. We're letting her play through some things right now. She's been a little quick on the trigger and the perimeter. She's been rushing shots. She's just been a little unsure of herself these last games, but she's settled down."
It's a time of transition for a young and quick Murray State team, but more focused ball handling improvement and advantage behind the free throw line will be strong keys in the next two games and throughout the remainder of the season.
Next up for the Racers is the Southern Illinois Salukis at 7 p.m. on Dec. 1 at the CFSB Center.
Story by Carly Besser, staff writer.