Jaci Kohn
Staff writer
Senior infielder Travis Isaak has had an impressive baseball career with the Murray State Thoroughbreds.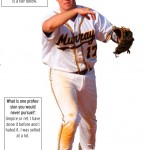 Last season Isaak was one of only two players to start all 51 games while being second on the team in doubles and RBIs with 18 doubles and 36 RBIs. Isaak hit .308 with two home runs and 32 runs scored.
This year looks no different. Though it is still early in the season, the Carlyle, Ill., native has already begun making his mark in the season, recording nine hits and six runs.
Before becoming a 'Bred, the infielder played two seasons for Lincoln Trail Community college in Robinson, Il.l
Isaak said his dad was the person who got him started in baseball after playing baseball at Kaskaskia College in Centralia, Ill.
"He played all his life," he said. "He got me into it when I was young and have been playing ever since."
No. 17 credits his parents and all of his family for making him the man he is today.
"They are great people," Isaak said. "They have taught me well and I try to model myself after them."
Isaak is proud of the teams and teammates he has played on and with.
"I've gotten to play with really good kids," he said. "Everywhere I've went I have had really great teammates and (played on) a bunch of good teams."
The thought of never letting his team down is what motivates Isaak when he plays.
"I'm a big perfectionist and that keeps me going," he said. "I want to do well for my teammates and my coaches."
Isaak plans on going to chiropractic school after this semester. He hopes to go to Logan's School of Chiropractor in St. Louis, Mo.
He is a big hockey fan, which seems to surprise people said Isaak. The St. Louis Blues is the team he roots for.
If he wasn't playing baseball he is not sure what he would do because the sport has been a huge part of his life for so long, he said.
"(I would) probably try to play some other sport," Isaak said. "I can't imagine not playing a sport in my life."