Sophie McDonald
Sports Editor
Steve Prohm had never lost a game as a head coach until Thursday night and now he's going to lose sleep as well.
"I doubt (I'll get any sleep)," Prohm said Thursday night after No. 9 Murray State lost 72-68 to Tennessee State, ending the Racers' run as the last unbeaten team in Division I. "My parents are here, too. That's what makes it even worse. (A loss) is terrible, but then when your parents are here and they don't see you a lot it makes it even worse. It's the first time they've ever seen a game here (that) we lost in six years.
"But that means you're at a good program, first off. But no (I won't sleep) because I'll watch the tape and I'll be mad at myself and then they're building a house next door and they start building the house at 5:30 so I can't sleep anyways after that so it's rough right now."
Robert Covington had 17 points and eight rebounds to lead the Tigers.
The 37-year-old Prohm accepted responsibility for the loss.
"I've got to do a better job in some areas to make sure we're doing a better job executing at times," Prohm said. "But, I'm proud. I'm extremely proud of our guys. We had an amazing run, 23 wins in a row. I'm sure we set a lot of records along the way, but now we've got to be totally locked in on winning a conference championship."
Junior guard Isaiah Canaan had 31 points and six rebounds for Murray State (23-1, 11-1 Ohio Valley Conference).
Murray State has won the last eight meetings against Tennessee State (16-10, 9-4) dating to 2008-09.
"Isaiah had 31 and was 7 for 10 from the 3 and 10 for 13 from the field and some of the shots he was hitting, you just sit over there as an opposing coach and say `Are you kidding me? ' You just can't defend any better," Tennessee State's John Cooper said. "But I thought we did a much better job on him in the second half and down the stretch in limiting his touches so he just did not control the game as much."
Cooper had nothing but good to say about the Racers.
"Let me say congrats to Murray, to their staff, their team, to the people here," Cooper said. "Not only am I impressed with what this team has done and the burden that presents but the class and how (they) go about it and how (they) treat the visiting team and everything else. Congrats to you guys, it is very impressive what this team has been able to do and how they've handled that."
Covington hit a 3-pointer with 4 minutes left that gave Tennessee State a 65-62 lead.
The Tigers led 69-68 when a turnover gave Murray State the ball with 11.2 seconds to play. Tennessee State stole the inbounds pass. Covington was fouled with 9.7 seconds left but he missed both free throws.
Canaan turned the ball over and committed a foul with 3.5 seconds to play. Kenny Moore made two free throws to make it a three-point lead.
Murray State again turned the ball over on a long inbounds pass and Tennessee State's Jordan Cyphers made one of two free throws to seal the upset.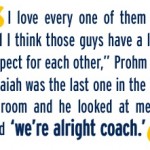 "I'm very proud of our young men to be able to come here and win on the road," Cooper said. "It is certainly not an easy place to play, a packed house and a team that just stuck to it. There was a point where we were down 12 points in the second half but yet, and still for whatever reason, we hung in there."
The Racers scored the first seven points of that game but they went more than six minutes without a field goal. The scoreless streak ended when senior guard Jewuan Long connected on a layup off a pass from freshman guard Zay Jackson to give the Racers a one-point lead.
Jackson stole the ball with 33 seconds remaining in the first half. Canaan had the ball in his hands and as Prohm stood and pointed directions, the crowd stood and cheered. With four seconds left Canaan made a 3-pointer to give Murray State a 40-33 lead. Canaan finished 7-of-10 from 3-point range.
There were nine lead changes — five in the second half. Tennessee State's bench outscored Murray State's 30-10.
Aska, who leads the team in rebounds, had six for the team and eight points in Thursday's game and said the atmosphere was different in the locker room after the game.
"It was kind of weird because we're so used to (Prohm) saying good job, but he still said good job today," Aska said. "Everybody felt like it hit us, we didn't know what happened, but then again we knew what happened. But we still got more games. We just have to stay as a family and keep on doing the right things."
Long took the loss hard but is keeping his eyes up for Saturday's game against Austin Peay.
"I feel like we let a lot of people down tonight but we cant think about it; it's in the past," Long said. "We've got to get ready for Saturday."
Prohm said he and the guys are staying positive.
"I love every one of them guys and I think those guys have a lot of respect for each other," Prohm said. "Isaiah was the last one in the locker room and he looked at me and said 'we're alright coach'."