Ben Morrow
Staff Writer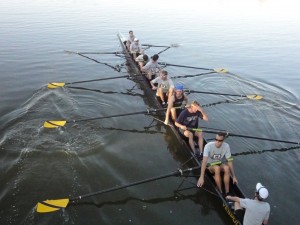 Autumn signals the beginning of rowing season at many top universities, and the Murray State Crew Club is preparing to compete against the best.
The rowing team has been a club sport since it lost its NCAA status under a Title IX move in 2008. Men's rowing is traditionally a club sport that rows alongside a women's team that is often NCAA-sanctioned.
Murray State, however, made the decision to replace the NCAA status of women's rowing with softball in 2008 citing funding issues.
The Murray State Crew Club has since accepted men and women rowers for their competitions, which are called regattas.
Steven Goeller, president of the crew, is a senior and a fourth year rowing competitor from Glen Rock, N.J. He said rowing has become one of his greatest delights of being a Racer.
"I really enjoy the team atmosphere," Goeller said. "Rowing is truly a team sport. One person's performance really does affect everyone else in the boat. I can't really compare it to another sport."
Four years on the club squad has shown Goeller the merits of team sport.
"Being on this (team) changes you," he said. "You learn a lot about teamwork and sportsmanship, exercise and fitness discipline, you name it. You really learn a lot," he said.
Goeller said he is glad to see the increasing interest in a sport that typically has less of a following than other sports.
"Rowing is somewhat of a niche sport, but it's growing,"?he said. "It's a very good distinction for Murray State to have. We are only one of two rowing teams in the entire state of Kentucky, with the University of Louisville's women's team the only other one."
The Crew Club has had admirable success against larger schools since its inception in 1996.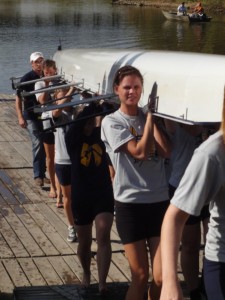 "We are a very successful team here," Goeller said. "We win pretty frequently in national events. The usual (opponents) would be Vanderbilt, Clemson, Purdue, Alabama, Georgia, and Florida– schools of that caliber. We tend to compete against schools in the Southern region."
Goeller, who said he had not participated in sports before joining the crew club, became a member after two cousins from Nashville encouraged him to row.
The club president explained the setup for how championships are determined.
"All teams in the Southern region can compete in the nationals," Goeller said. "In rowing, it's not like baseball where you have X number of games, a playoff and a championship tournament. Each competition is kind of like a miniature championship in itself."
Goeller explained how the crew club sustains its funding.
"The main factor is member dues," he said. "This is somewhat a self-funded team, so each member pays in for certain expenses. SGA has some funding we can apply for, but most of our funding comes through membership and alumni support. We're very realistic that we have to be pretty much self-sufficient."
Goeller said that over the next two weeks  potential rowing club members will be training on a rowing machine. After that time, trainees will undergo a tryout, or a physical test on the rowing machine. Rowing members are then selected based on results.
Team members practice five days a week. Regattas begin in October and last through the spring.
Goeller said he is ready for the physical and mental rigors that rowing brings.
"I like the challenge of it," he said. "Contrary to popular belief, rowing is one of the more physically and mentally demanding sports. You use your whole body all at once while trying to complete a long distance as fast as possible. Physically, it's tough; and mentally, being able to get through it all, to stay focused and to finish the competition strong is really difficult."
Goeller said the team is able to go to many different venues in the South, which is a bonding experience for the team.
"Being from New Jersey, I personally get a kick out of going to all these places in the south that I have never been to," he said. "It's a little different."
"I think club sports are a very unique part of student life," he said.
Rowing traditionally competes during the fall and spring in order to conform to the University calendar.
Goeller said he is excited about the upcoming season.
"I can only say the best about the people we have in our club," he said. "They are bright people, determined, competitive and just great people overall. I just love the whole organization."
More information about the Murray State Crew Club may be found at murraystaterowing.com.
Contact Morrow