Story by Sydni Anderson, Staff writer
Photo courtesy of Katie Shoenborn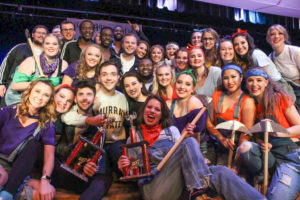 In a clash of chords and super-smooth moves, Alpha Gamma Delta's Rock-A-Thon provided Murray State students a spectacle for entertainment and a cause to rally behind. Lovett Auditorium served as the battleground on the evening of Nov. 10 for fraternities and sororities rocking themed mashups and competing for the first place award. Fittingly, the stage was lined with rocking chairs occupied by Alpha Gamma Delta members.
To kick off the evening, a slew of look-a-likes from seven sororities and six fraternities took the stage performing in short skits as their doppelgangers. Sigma Sigma Sigma reenacted Sharpay and Ryan's Bop to the Top from High School Musical. Alpha Sigma Alpha threw on their matching jumpsuits as the Cheetah Girls and Pi Kappa Alpha's look-a-like rocked Post Malone's braids. Phi Mu Alpha stepped on the stage as the Notorious BIG. The Rock-A-Thon performances were up next.
John Gafford, junior from Cumberland City, Tennessee is an active member of Sigma Phi Epsilon and was a performer in the organization's Rock-A-Thon performance. Gafford said creating and practicing the performance was a huge time commitment for the performers and the coaches.
"We started practice on September 19th and were practicing twice a week for two hours at a time for the first few weeks," Gafford said. "After that, we moved it up to three practices a week, and, by the week of Rock-A-Thon, we were practicing almost every weeknight for two hours at a time."
Gafford said the constant practicing gets old but is always worth it in the end. He said his favorite part of Rock-A-Thon is working with his brothers and sharing all of that hard work with his peers at the event.
In addition to performing, Gafford also helped the coaches construct props for the show. However, he said most of the work for the show isn't done by the fraternity members.
"All we do is learn a dance," Gafford said. "It's our coaches that not only had to choreograph our entire dance routine, but also painted our banner, helped us on props and put up with a room full of guys who were constantly complaining about having to practice all the time."
Gafford said he thinks events like Rock-A-Thon do an excellent job of rallying Murray State's Greek life together for a good cause.
"There aren't a ton of things that hundreds of college kids with an already full plate want to give such a significant amount of time to but Rock-A-Thon and its mission to fight hunger is definitely one of those things," Gafford said. "The sisters of Alpha Gamma Delta do a really good job with their philanthropy."
Lindsay Crafton, junior from Bragg City, Missouri is a member of Alpha Gamma Delta and served as a coach for the Rock-A-Thon performance winners in the fraternity category: Phi Mu Alpha. Alpha Gamma Delta members serve as the coaches for each organization's performance in Rock-A-Thon. Crafton said the event is one of the most cohesive aspects of the organization's sisterhood.
"While we are around each other often, the bond we have while raising money for a cause so dear to our heart is immense," Crafton said. "Our passion and drive for making this event a success results in closer interactions and endless support."
Crafton said the event is planned well ahead of time and takes a lot of preparation to come together.
"We must set the date, reserve the revenue, decide on a theme and start fundraising many months in advance," Crafton said. "Our sisters begin coaching their teams in September and have long intense practices up until showtime. In totality, the hours put into Rock-A-Thon are immeasurable. Time, sweat, laughs, tears and love are all important factors that contribute to the event."
Crafton said she enjoyed every aspect of the show but watching Phi Mu Alpha win was very rewarding.
"I have no dancing abilities whatsoever but I have loved getting to support my guys and be their number one fan for the past two years now," Crafton said. "They will always have a huge place in my heart."
Hattie Ginn, junior from Princeton, Kentucky served as Rock-A-Thon's coordinator. Alpha Gamma Delta raised $16,710 for their philanthropy Fighting Hunger last year. They were the number one sorority fundraiser on campus. Ginn said the sorority does not have an exact total for this year's event but hopes to exceed their goal of $16,000.
"We are the fourth leading chapter in all of Alpha Gamma Delta so we work very hard as a chapter to maintain that," Ginn said.
Ginn said the planning process included reaching out to other organizations and getting information around campus. She said the process was easy with the support from her sorority sisters.
"Even though the event itself is stressful, we know that as a sisterhood we can achieve anything that we set our mind to," Ginn said. "These girls coach all the organizations and even reached out to different businesses to get donations to Fight Hunger. From the laughter to the crying from exhaustion, we know that we have each other while Fighting Hunger and that is all that matters."
Devin Chen, sophomore from Herrin, Illinois and an Alpha Sigma Phi member said the event was his second time experiencing Rock-A-Thon. He said the competition gets more competitive every year but events like this bring everybody together, even individuals who don't go to Murray State.
"Everybody enjoys watching people perform and dance, especially when it's for a good cause," he said.
Chen said a major aspect of Greek life is philanthropy and helping the community so it is always important to go to these events whenever possible.
"It is always important to support events that are for a good cause," he said.
Chen said he thought Alpha Sigma Phi had the best overall performance because it was very creative and entertaining.
After many Taylor Swift and Kanye West references, the fraternity performances brought in the evening, followed by the announcement of the night's winners. Sigma Sigma Sigma won the banner competition in the sorority division and Sigma Chi won in the fraternity division. Lambda Chi Alpha and Sigma Sigma Sigma also won in the look-a-like competition. The Sigmas would have reigned in the night with wins across the board if Delta Zeta had not claimed victory in the Rock-A-Thon performances. Phi Mu Alpha reigned superior in the fraternity performances.