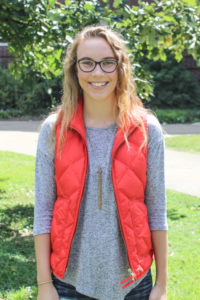 Story by Amy Turner, Contributing writer
Photo by Rhiannon Branch/The News
What were you doing this summer? If you were Jordyn Rowland, junior from Murray, you were working to bring Her Campus to Murray State.
Her Campus is a national online magazine for collegiate women, and it is quickly working its way to colleges all over the U.S. After being connected to the publication by a professor, Rowland knew it was time to launch the online magazine here at Murray State. The process was not the easiest, as it happens over the summer. Rowland had to get a petition signed with 100 signatures, fill out the application as well as other paperwork and then staff the publication.
The online magazine will launch on Tuesday, Sept. 26. Upon the official launch, viewers will be able to find articles written from our local chapter, such as an article from a senior writer giving advice to college freshmen and an article about the nightlife in downtown Murray. The site will run almost like a blog with a variety of content, including hard news stories, entertainment, quizzes, features and profiles.
"I really like the idea of an online thing by Murray women, for Murray women," said Lauren Edminster, sophomore from Murray.
Edminster is responsible for running the media accounts for the chapter. She posts fun content daily with everything from jokes to encouraging quotes. The chapter currently has a Facebook page and Twitter and Instagram accounts. In the future, they hope to have Pinterest and Snapchat accounts as well. The accounts are under the username @hcmurraystate.
Professor Elizabeth Thomas, faculty advisor for Her Campus, was the closest to Rowland when setting up this project. She emphasized the convenience of the website, and she also explained that as a public relations professor, she believes the project follows the goals of the major program.
"It's everything the college woman needs in one place," Thomas said. "Connecting the right message to the right people, using the right channel."
The publication is searching for more writers. They have around 15 and need about 25 total. The whole process takes roughly three steps, and within 48 hours of turning in the application, a final decision should be given. The process starts with submitting the online application, which is found at this link. Once the application is turned in and accepted, there is a writing test. The test includes pitching an idea and then actually writing the proposed article. The last step is a quick editing test which should take less than 30 minutes.
The online magazine is focused on giving women the freedom to publish their opinions and forming a community around the women in local areas. Over 50 percent of the population at Murray State is female, and the goal for the online magazine is to cater to that fact.
"It is tons of fun. Who knows what we will get into?" said Rowland.
The site to access the Murray State chapter of Her Campus is here. The national website can be accessed here.