Story by Destinee Marking, Staff writer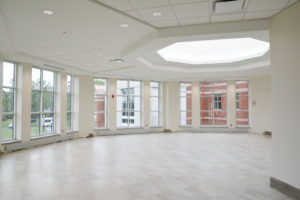 Murray State alumnus Gary W. Boggess stood speechless as the newly constructed Science Resource Center was named in his honor at the dedication ceremony April 21.
Boggess, dean of the College of Science from 1978 until 1998, said he has encountered health issues during the past year but felt rejuvenated on Friday.
"I don't know what to say except it's good to be with you," Boggess said.
The brick walkway connecting the new engineering and physics building to Jones Hall was also named in honor of Timothy D. Jones, son of Jesse D. Jones, supporter of students and faculty within the Jesse D. Jones College of Science, Engineering and Technology.
The ceremony took place in the soon-to-be Dr. Gary W. Boggess Science Resource Center and consisted of remarks from Stephen Williams, President Bob Davies, Steve Cobb, Jesse D. Jones and Gary W. Boggess.
Davies spoke about what the Science Resource Center will be and how it fits into the vision he has for Murray State.
"At Murray State University, our vision is very simple— to be the best student-centered university in America," Davies said.
The Science Resource Center will be a place for students to study and collaborate. Davies said the area will be equipped with computers and equipment for students to practice presentations, take part in video conferences and do live interviews.
Steve Cobb, dean of the Jesse D. Jones College of Science, Engineering and Technology, followed Davies' remarks by speaking about what the new building means for students.
"With the completion of this building, our students will benefit from a modern, well-equipped learning environment that has been designed from the ground up with student needs in mind," Cobb said.
Since Cobb has known Boggess for more than 30 years, he also took his chance to share what he finds to be Boggess' most admirable qualities and why he is deserving of this honor. He said Boggess always has a calm and reassuring demeanor, is patient and persistent, always has a big smile and a welcoming handshake and has always valued mentoring.
Donations from 1964 Murray State alumnus Jesse D. Jones made the dedications possible.
"This is a most special day, a once-in-a-lifetime day," Jones said.
Jones said Boggess is deserving of all the accolades he receives. He said Boggess is a good friend of his and he is happy for him.
The ceremony ended with a ribbon cutting for the Science Resource Center.