Story by Paige Effinger, Contributing writer
The search for a new provost and vice president of Academic Affairs is in process and the forum for the first finalist, Keith Hargrove, was held April 11.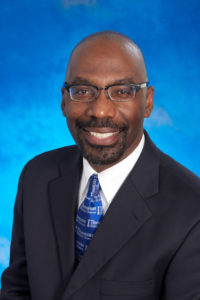 Hargrove currently works at Tennessee State University as the dean of the College of Engineering. He has 20 years of experience working in higher education.
He attended TSU for his undergraduate in mechanical engineering and received his master's degree in engineering at Missouri University of Science and Technology.
After earning his master's, he then worked several years in the field at General Electric. He eventually decided to earn his doctorate degree in industrial and manufacturing engineering from the University of Iowa.
In addition to these academic experiences, Hargrove taught at a community college and spent a year at Harvard University as a "Harvard fellow," where he spent time studying in the engineering and science department.
"I have a real broad experience at different universities," Hargrove said
Hargrove outlined three main roles the provost plays in his speech. To him, a provost supports innovative academic programs, ensures that learning takes place inside and outside of the classroom and provides the resources to academic programs.
Although he has attended and worked for many different institutions, Hargrove emphasized loyalty. He said he spends eight to 10 years at each institution, and he does not "hop around" to different universities. He said applying for this position is deciding what the next step is for his career.
Hargrove has accomplished many different things at the universities he has worked for. He said he increased enrollment in all programs of leadership specifically at TSU from 675 to 1,100 people in the last five years.
Other things Hargrove accomplished include bringing research money in strategic areas, which he said he attracted almost $10 million in research activity. Also, he said he promotes collaboration between academic units despite his extensive background specifically in STEM careers.
Hargrove stressed how important it is for him to engage in his community. He received the community service for administrators at TSU for the activities he has partaken in.
Another way he stays engaged is by acting as president of the PTO organization at his children's schools, which he said is his way of getting involved in the K-12 education system.
He is also a founder of a STEM-based charter school, STEM Prep Academy, which has one of the highest math scores in Tennessee.
Hargrove expressed the importance of the study abroad experience. Hargrove said he had his fair share of studying abroad, as he he spent his high school years studying overseas in Europe. After having studied abroad himself, he said he sees the benefits that comes from it and is an advocate for this experience.
"Those types of experience are key for any student," Hargrove said. "I think the provost role should play a key role in doing that as well."
Throughout his career, he said he has lead with a "performance-based" leadership style. He does this by strategically coming up with goals and performance metrics for his departments currently at TSU. He said he does not expect this style to change if he is offered the position at Murray State.  
"One thing that you count about me, one is that my loyalty is unwavering. My level of integrity is steadfast, and my leadership style is performance-oriented," Hargrove said.
If he is offered the position, in his first year he said he plans to learn everything about Murray State's culture. He said he wants to be able to fit his ideas to the culture by listening, learning, observing and assessing Murray State.
"I know exactly the type of institution that I would like to work at at this next level," Hargrove said. "I believe that is Murray State University."