Story by Lindsey Coleman, Staff writer
In the next two weeks, two new boutiques will open their doors in Murray: Madi Lou Lou's at 615 S. 12th St. and Southern Soul at 109 S. Fourth St.
Southern Soul's grand opening will be April 8 at 10 a.m. and Madi Lou Lou's will be April 15 at 10 a.m. Murray-Calloway County Chamber of Commerce President and CEO Aaron Dail said several boutiques have set up shop in Murray in the past five years, many of them being owned by women, and they have done very well. He said Murray has one of the strongest women's boutique offerings in the area, which draws more people to the economy of Murray.
MADI LOU LOU'S
Owner Penny Hammond said the goal at Madi Lou Lou's is to provide fashionable boutique clothing at affordable prices, while raising awareness for tracheomalacia. She said she plans to donate a portion of the profits to Kosair Charities. Tracheomalacia is an airway defect, causing the windpipe to be floppy and/or collapse while breathing.
The store is named after Hammond's 1-year-old daughter Madison, or "Madi Lou Lou," who was diagnosed with tracheomalacia. The family makes monthly visits to a doctor at Norton Children's Hospital in Louisville.
"Blessings in disguise is what I feel like this is," Hammond said. "Granted, my daughter is sick, but if it wasn't for her, I wouldn't have had to give up my job, and I wouldn't have had a reason to pursue this."
Hammond has been selling clothing online since July 2016, but she said she stepped out on faith and began opening a storefront three weeks ago.
Right now, she is targeting women and children, with the hopes of adding boys clothing soon. The store also has a consignment component. She said she hopes to keep prices affordable, especially with college students in mind.
"I'm the girl who wants to wear boutique clothes at affordable prices, so that's what I'm going to have," Hammond said.
SOUTHERN SOUL
Owners and cousins Laura Riley and Jenny Jackson also started out online but have now shifted their focus to a Southern Soul storefront on the Court Square.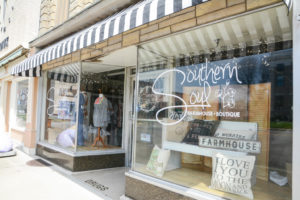 Riley said Southern Soul isn't just a boutique. She said she wants the "all-around experience" of home goods, gifts and clothes with a farmhouse and trendy vibe.
"I think that we have something for everyone, not just one style," Riley said.
Riley said the goal is for all clothing items to be less than $50.
"I just know when I'm going out and looking for clothes, I want something that I can afford," Riley said. "When I was in college, I can remember, you don't have a lot of money. We want to keep it affordable for everyone."
Southern Soul carries local brands such as Farmhouse 31 Designs, Muddy Watters Designs candles and Frolik Calligraphy.
Style blogger and junior from Paducah, Kentucky, Elizabeth Young said she shops at many boutiques in Murray, but what sets Southern Soul apart is their style and affordable prices.
"I haven't seen hardly anything on their site that is already in a boutique here in Murray," Young said. "They give a modern feel without it being too overwhelming."
Leigh Anne Pool, junior from St. Louis, said shopping local is important to her.
"I really like buying my clothes at the boutiques in Murray because I know exactly where the money goes," Pool said. " It helps our town and it helps the people of Murray."