Story by Abby Siegel, News Editor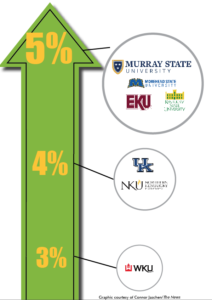 The Kentucky Council on Postsecondary Education approved a 5 percent tuition increase cap for Murray State for the 2017-18 academic year.
CPE, a statewide postsecondary and adult education coordinating agency, approved a ceiling limit of 3-5 percent increase for tuition and mandatory fees for students at public universities in Kentucky.
Western Kentucky University was capped at a 3 percent increase.
The University of Kentucky and Northern Kentucky University were capped at a 4 percent increase.
Eastern Kentucky University, Kentucky State University, Morehead State University and Murray State  were capped at a 5 percent increase.
The University of Louisville didn't have a ceiling set because the university's board of trustees already voted not to increase tuition next year.
The ceiling for the Kentucky Community and Technical College System set a 3.9 percent tuition increase.
Campuses will face an $11.5 million shortfall for the 2017-18 year even with the increase in tuition revenue.
According to CPE, this increase is intended to "offset inflationary fixed costs, manage growth in employer-paid retirement contributions and support continuing progress to produce a more highly-skilled and productive workforce, create new jobs and grow Kentucky's economy through higher levels of educational attainment."
"CPE is a chief advocate for secondary education and adult education," said Shawn Reynolds, member of the Murray State Board of Trustees, who was recently sworn into the CPE Council.
Reynolds said CPE develops strategies and ideas to improve postsecondary and adult education, and the tuition cap does this by preventing tuition from increasing at an uneven rate from year to year.
Shawn Touney, director of communication, said university officials are in the process of determining a proposed budget with tuition rate for the 2017-18 academic year. The rate will be voted on by the Board of Regents at a special meeting April 21.
"Murray State University is supportive of the 2017-18 tuition and mandatory fee ceiling approved by The Kentucky Council on Postsecondary Education," Touney said.  "We believe these rates strike the right balance between keeping costs affordable for students and their families, while providing adequate funding for our campuses to address fixed and unavoidable current and future funding needs."
A tuition forum will be held at 2 p.m. Thursday, April 6 in Wrather Auditorium to discuss the proposed tuition changes for next year. The event will livestream at murraystate.edu/streaming.