Racers defeat Tennessee Tech in double overtime
Story by Bryan Edwards, Staff writer
Junior guard Jonathan Stark recorded a career-high 41 points in The Racers' 85-84 double overtime victory against Tennessee Tech in the first round of the OVC tournament.
Stark hit the game-winning three point shot with six seconds remaining to give the Racers a win and advance in the OVC Tournament.
Senior guard Bryce Jones said he wasn't surprised that the shot fell for Stark and was happy for him.
"I've played against him for two summers and he has been making crazy shots like that every since I met him," Jones said. "When he makes those shots in these moments I'm just happy for him. You dream of making those shots, and knowing that I'm in the gym with him when he makes them, I just feel blessed."
Head Coach Matt McMahon said the team fought hard so they could keep the ride going.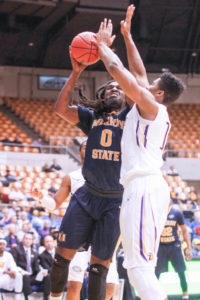 "What a great basketball game," McMahon said. "I'm really proud of the guys, I thought they were very resilient and we were fortunate to come out of this game with the win."
The Racers led 62-60 in the final seconds of the game, but a dunk by Golden Eagle junior forward Curtis Phillips Jr. tied the contest at 62 with one second remaining to send the game into overtime.
Tennessee Tech senior guard Kajon Mack scored all nine points for the Golden Eagles in the overtime period, but a missed shot on their final possession. Stark rolled around a screen and missed a potential game winning shot, sending the game into a second overtime.
Jones opened the second overtime with five points, and Stark scored the final seven including the three that ultimately sealed the game for the Racers.
Murray State freshman Jalen Dupree scored the first basket of the game in his first career start in a Racer uniform. Although Dupree fouled out in the game, he recorded 12 points and 11 rebounds, marking his second double-double in as many games. Miller also recorded a double-double with 14 points and 12 rebounds. Jones also put up 12 points, including five during the second overtime.
The Racers hit a drought early in the first half, going 6:20 without a point. The Golden Eagles capitalized on the Racer drought, taking the lead at 13-6.
The trio of Jones, and Stark and junior forward Terrell Miller led the Racers back, but were still trailing 29-30 at the half.
The win advances the Racers onto the second round of the OVC Tournament, where they will square off against the Morehead State Eagles. The Eagles defeated the Racers 101-100 in their only meeting this season. Tip-off is set for 8:30 p.m. on Thursday, Mar. 2 in Nashville.