By Gisselle Hernandez, Features Editor
Murray State's women's empowerment group Eloquent Commitment to Helping Our Sisters hosted their first Open Mic Night to cap Black History month last week in the Curris Center Dance Lounge.
Chynna Ross, member of ECHOS, described the group's mission as "breaking the cycle that women cannot work together." The sisters donned black clothing as they hosted the event and invited attendees to sign a black poster board at the entrance that said in bold letters, "We are Black History" as they came in.
Alexandria Smith began the event by singing the National Negro Anthem, and Ki'Ron Sickles, the night's co-master of ceremonies, gave the audience the background of Black History Month. Between each act, there was a Black History trivia game with prizes. All of the questions were about a particular moment in history that reflected strongly on African-American achievements.
The first act was by Kenny Howard, who played "God Bless the Child" by Billy Howard on his trumpet. After the trivia question, LaToya Tyson followed with spoken word titled "Thick Chicks," an ode to all women who are "36, 29, 42." Chaevon Harper performed two original rap songs, and after an intermission, Anissa Quilling was welcomed to the stage to perform "I Know Where I've Been" from "Hairspray." In the penultimate act, Jared Jones rapped his own "The Way She Moves," and Ebony Clark closed the night by reciting two Maya Angelou poems.
Desiree Curry, president of ECHOS and senior from Fort Campbell, Kentucky, said hosting events like this creates an area where people can be comfortable and can help improve the campus in many ways.
"Because I know sometimes it can be scary talking to people that don't look like you," she said.  "So if you come to an event like this and you see everyone's having fun and everyone enjoying it, they're nice to you or you're nice to them, if you did have a negative view of those kind of people or something like that, it would change your mindset."
ECHOS hosts many other events throughout the school year.  The Great Migration is one of their biggest events, and it helps freshmen women transition into college life in the fall. Among other events, the women's group hosts Womanhood Tea Parties, Empowerment Week and even a heel dancing class, which Sickles said helps women get in touch with their inner beauty to feel "good inside and out." The group currently has 15 members, all women, but they also host events to empower men as well, including the Don't Forget Our Brother event.
"We try to encourage men in the community and uplift them as well," Sickles said. "Just because we don't want to forget them when we're uplifting and bringing up everybody else."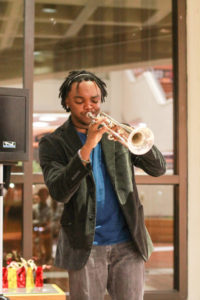 Jenny Rohl/ The News
ECHOS described themselves similar to a non-profit group as they are independent and not funded by the university. They raise funds to host all of their events, although they do coordinate with the Office of Multicultural Affairs occasionally.
"Since we're college students, we try to do the best we can in the cheapest way," Sickles said.
Preparation for the Open Mic Night took almost two months. Sickles said they purposely chose to host it near the end of the month to close out Black History Month "with a bang." She said she thinks it's very important to have not only African-Americans but other people as well come to events like this since Black History is not taught in the classroom.
"We had the urge to want to learn because that's where we come from," she said. "So events like this give the opportunity for other races and other cultures to come in and kind of feel us a little more, kind of understand our anger and understand why we react the way we do. It just makes it a more eye-opening experience for everybody while also allowing us to share."