Story by Ashley Traylor, Staff writer and Michelle Hawks, Contributing writer
The agriculture program is offering students experiential knowledge through the use of the Modular Swine Farrowing Learning Laboratory that opened Jan. 31.
For a class project for experience in swine production during the 2014 fall semester, students designed a new farrowing house for the swine unit on the North Farm. Under the leadership of Matt Shultz, assistant professor of agriculture, the class set up a meeting with Tony Brannon, dean of the Hutson School of Agriculture.
"Immediately, we set forth on a path to procure this facility to move our operation from the outdated, energy inefficient, boar test station converted farrowing house into this state of the art learning laboratory," Brannon said.
He said the swine operation would not have been possible without alumna Claire Crocker.
While a student here, Crocker, in coordination with Bill DeWees, professor of pre-veterinary medicine at Murray State, wrote a proposal to establish a "show pig" production unit.
From there, Brannon said the idea was propelled into reality by contributions from several, passionate faculty members.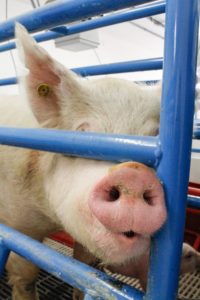 Shultz said two years ago the university made a transition as part of the university enhancement plan to focus on experiential learning, which included coursework to make full use of the facilities on the farm.
The two courses designed to immerse students in hands-on learning were experience in swine production livestock management and marketing.
He said in swine production, students will look at phenotypic traits and take part in breeding decisions and sire options.
Livestock management and marketing follows up on experience in swine production because students market the animals through websites and social media. Shultz said students are responsible for the nutrition of the animals so they look their best for sale.
Murray State maintains 15 sows – adult female pigs – and he said they produce about 200 pigs each year, which are sold in auction.
Shultz said this year there will be an online sale and a traditional sale. The traditional sale is scheduled for April 1 at the William "Bill" Cherry Agricultural Exposition Center.
The target market for the pigs are youth organizations like Future Farmers of America. He said buyers look at correct skeletal design, correct structure and adequate muscle.
A few years ago students prepared a SWOT – strengths, weaknesses, opportunities, threats – analysis of the farm and suggested the facilities were one of "our biggest weaknesses, as well as one of our biggest opportunities," Shultz said.
He said the students put together a plan to update and modernize the farm, and the farrowing unit was the first phase.
Shultz said Murray State's agriculture program is unique because students are immersed in animal care as well as the business side of it. He said it is a student-run program. 
"This is the only university I've been at where we have anything remotely close to that," Shultz said. "Most schools you would visit the farm and maybe see some demonstrations, maybe get to do something like give some vaccinations, maybe do a little bit of artificial insemination. But getting to see the entire process from start to end and then getting to make actual decisions in a high-stakes environment with real money and real animals is very unique."
He said the next phase will be to modernize the finishing facility and create an open-air solid manure system to eliminate odor created by the hogs.
Ella Fourqurean, senior from Gracey, Kentucky, said at the North Farm they farrow and process pigs, which includes giving them ear notches, clipping teeth and giving proper shots.
She said they are a student-led farm at the swine unit, and the hands-on experience is the best thing about the farm.
Fourqurean said she showed pigs growing up, but she didn't farrow so she didn't know a lot about breeding and farrowing pigs.
"This has been a learning experience for me, and so I hope to take what I learned here at Murray and take it with me as I'm older," Fourqurean said. 
She said a typical day for students at the farm begins with making sure the animals are healthy and fed. During the winter, they make sure the water runs and the huts are bedded for the animals, and they make sure the farm is well-maintained.
Jane Webster, senior from Taylorsville, Kentucky, said the hands-on learning sets Murray State's agriculture program apart from other universities because the day-to-day activities on the farm are diverse.
"It's amazing how much we've learned here," Webster said. "Like seeing it in the books and seeing it on a video or a PowerPoint is so much different than seeing it person. We've had the opportunity to see a lot of things."