Story by Ashley Traylor, Staff writer
About 700 to 1,000 activists came out to voice their opinion for change during the March for Social Justice and Equality in Murray, chanting and holding signs with ambitions to send a message to the new presidential administration on the first day of the term.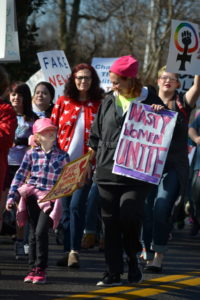 The event coincided with a Women's March in Murray that acted as a "sister march" of the national Women's March that took place in Washington with more than half a million participants, according to an article by The New York Times. Participants of the Women's March and the March for Social Justice and Equality demonstrated their activism together as one crowd strutting from Faculty Hall to the Court Square.
Participants of the local marches gathered holding signs and banners that read, "Feminism is another word for equality," "Losing the popular vote is not a mandate," "Our rights are not up for grabs," "God loves everyone. That's his thing," "United we stand for social justice," "America was already great before Trump's hate" and "Hate does not make America great again."
Other signs showed support for public education and clean air and water. Some participants marched wrapped in rainbow flags to represent LGBT rights.
While walking through the streets of Murray, participants chanted, "This administration must work for everyone's trust," "Everyone should have a place, every creed and every race," "No justice, no peace," "No to racism, no to bigotry, no to fascism, no to misogyny," "Clean air, clean water," "1 2 3 4, love is what we stand for; 5 6 7 8, we don't want a world of hate."
Several of the participants agreed the unity and encouragement at the march created a sense of empowerment.
Lonna Evans, march participant from Doniphan, Missouri, was visiting her stepmother, Brittany Evans in Murray for the weekend and together, they marched.
"I was tired of not doing anything," Brittany said. "There's only so much complaining on Facebook that matters and it was really empowering to be part of something this big, which is awesome."
Lonna said she is from a small town and wanted to march for all people.
"I came to support just people of all creeds, of all colors and all sexual orientations and all economic backgrounds, just to love and feed into the love," Lonna said.
They said they stayed up late the night before working on posters for the march.  Brittany said when she saw how many showed up to support, it brought her to tears.
"I wish there were more events like this in Murray," Brittany said. "I wish I could do it every weekend."
Elizabeth Bridges, high school senior from Mayfield, Kentucky, said she marched to stand up for what she believed in – everyone deserves equal rights.
"It inspired me to believe more in what I believe in and made me want to show others what I believe in and let them see what we are all about," Bridges said.
Murray State professor, Peter Murphy and his wife, Sarah Gutwirth began planning the march in November after the presidential election. Murphy said people asked during the early planning of the event, "What if no one shows up?"
Murphy and Gutwirth began the idea for the March for Social Justice and Equality and sent it to 35 of their progressive friends, but it continued to gain momentum as the word spread.  
Murphy and Gutwirth both gave speeches, after the march.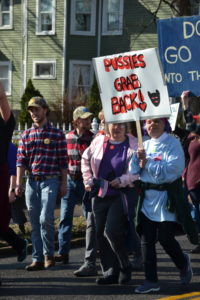 Murphy's key point of his speech was everyone has the capacity to make change.
"Each and every one of you has the capacity to make change," Murphy said. "What you see today is a grassroots organizing effort. Two people might have introduced the idea for a march and a rally, but well over 100 showed up to move that idea forward."
The March for Social Justice and Equality coincided with the National Women's March, and Gutwirth spoke about women's rights and equality.
Gutwirth said she was proud they could stand in Murray and march in solidarity with the National Women's March because "sisterhood is powerful," she said.
Murray was not the only place hosting marches for solidarity, democracy and women's rights. Protesters marched in Washington, Chicago, Boston, New York and Los Angeles in addition to several marches in smaller cities across the United States. Organized protests also took place in Australia, New Zealand, Kenya and many European countries.