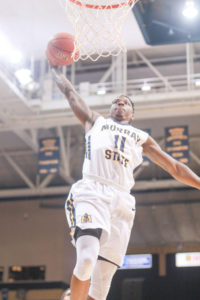 The Murray State Racers took the floor of the CFSB Center for the second time this season, matching up against the winless Alabama A&M Bulldogs.
The Racers set the tone early in the first half outscoring the Bulldogs by 20 points and finishing out the game 91-54.
The Racers shot 55.9 percent from the floor and 46.2 percent from beyond the arc in the first half.
Senior guard Damarcus Croaker had a perfect first half with 14 points going 6-of-6 from the field, 2-of-2 from long range while dishing three assists. Croaker played nine minutes in the second half, providing a heavy defensive presence for the Racers.
"Damarcus is a really unselfish player," Head Coach Matt McMahon said. "And I think that second half, he was more focused on distributing the ball and really trying to be a defensive presence for us."
Junior forward Terrell Miller shot 50 percent from both the field and the arc and led both teams on the boards with eleven rebounds for the game. Miller's post presence allowed the Racers to work the ball inside and find open shots outside of the paint.
"I was pleased to see Terrell working down there on the block," McMahon said. "All in all, you see the 46 points in the paint and I thought that was a critical stat for us."
Murray State dominated Alabama A&M across the board, converting 28 points off of turnovers, 13 on second-chance points and 28 points coming off of the bench.
Junior guard Jonathan Stark led the Racers with 17 points for the game, shooting 6-of-11 from the field, 4-of-5 from the 3-point line and adding two rebounds.
Croaker and freshman guard Jachai Taylor each added 14 points for the Racers in the victory. Taylor only played 19 minutes but was efficient with 6-of-9 from the field and 2-of-3 from the arc, including back to back 3-pointers in the first half.
The Racers go on the road for their next game, at 7 p.m. Tuesday against Southern Illinois.