Story by Blake Sandlin, contributing writer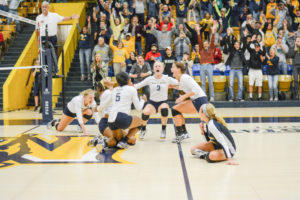 The three day long OVC Volleyball Championship tournament came to a close Saturday night, as the tournament's top seeded teams, Murray State and Southern Illinois University-Edwardsville, squared off in hopes of winning the OVC title, as well as an automatic bid into the NCAA tournament.
In an eight team tournament, Murray State pulled out a championship win in dramatic fashion, as they claimed a 3-2 victory over the Cougars (25-16, 24-26, 22-25, 25-13, 15-11).
Senior right side Kristen Besselsen came out firing, leading the offensive charge for the Racers in the first set, recording 6 kills to help her team claim a 25-16 win.
The Racer's were not able to continue their hot start, however, as the Cougars rallied to tie up the match, claiming a 26-24 win in the next set, led by 4 kills from junior outside hitter Jackie Scott.
Senior Taylor Held, freshman Dylynn Otte, and junior Taylor Joens combined for 12 points in the third set, pushing the Cougars to a 25-22 win, and giving their team a 2-1 lead.
The Racers, with their backs against the wall, pulled together a 25-13 win to keep the match alive, led by junior outside hitter, Kamille Jones, and senior outside hitter Scottie Ingram's 4 kills.
The fifth and final set had the senior duo of Ingram and Besselsen recording 8 of their team's 15 points in the final set to give the Racer's a 15-11 win, as well as their fifth OVC title in program history.
Head Coach David Schwepker was proud of his team's effort, and believes that their success is a result of hard work throughout the season.
"We're so excited," Schwepker said. "The girls have worked their butts off all year, and everything is for this. We got it for them and for Murray State. I think we did Murray State proud tonight."
Murray State's win was aided by the double-double performances by three of their seniors. Ingram had 21 kills and 20 digs and Besselsen added 19 kills and 12 digs.
Hannah Stultz also pitched in with 60 assists and 20 digs, a career best.
Ingram's tournament performance put the OVC on notice and
was awarded the tournament's Most Valuable Player award. Her 21 kills on the night were also enough to propel her to the all-time leader in career kills in program history with 1,574.
The NCAA tournament bound Racer's will await the results of the NCAA Selection Show to find out who their next opponent will be. The show will begin at 8 p.m. Nov. 27 on ESPNU.