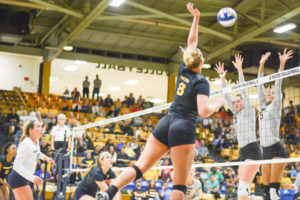 Story by Blake Sandlin, contributing writer
Night two of the 2016 OVC Volleyball Championship tournament continued as Murray State matched up against Eastern Kentucky in the tournament semifinals at Racer Arena.
The Racers' championship aspirations were not the only thing on the line tonight, they also battled to keep their 13-game win streak alive. With help from senior outside hitter  Scottie Ingram and senior Kristen Besselsen earning double doubles, the Racers were able to prolong both, claiming a 3-1 victory (25-13, 25-21, 22-25, 25-22).
The first set was controlled by the Racers, when Ingram, sophomore middle blocker Dacia Brown, and junior outside hitter Kamille Jones, all contributed with four kills each. Senior setter, Hannah Stultz', also added in 15 assists to help the Racers take the first set 25-13.
In a second set that went back and forth, the Racer's pulled together in key moments late to claim a 25-21 victory. Ingram led all players in set two, recording seven kills to go along with four digs.
The Colonels made a push in the third to keep their season alive, claiming a close set that ended 25-22 in the Colonel's favor. Cassie Knutson, sophomore setter from Eastern Kentucky, led her team with 6 kills to take the game to another set.
The Racer's made up for their play in the fourth set, where seniors Besselsen and Ingram each recorded five kills to bring the fifth-seeded Colonels' season to a close, as they claimed a 25-22 win.
Ingram finished the game with a total of 20 kills and 14 digs, while Besselsen added 14 kills and 20 digs of her own. Ingram said that her and her teammates desperation to keep their season alive was their motivation in Friday's win.
"We were just ready," Ingram said. "We just had to be ready for anything they were going to throw at us. We told ourselves before the game to go after everything because every point matters because it could be our last."
Murray State's performance tonight propels them into the final round of the conference tournament Saturday at 7 p.m. in Racer Arena. The Racers will face Southern Illinois University-Edwardsville in the championship game. The winner will receive an automatic bid into the NCAA tournament.