The staff editorial is the majority opinion of The Murray State News Editorial Board.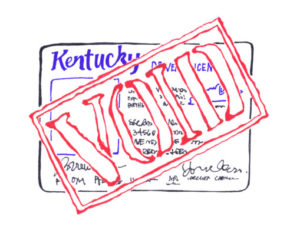 Boarding a plane is relaxing for so many reasons: the quick drive to a nice airport, the speedy security lines and the kind, never-invasive TSA screenings.
What could make the experience even more enjoyable, more streamlined and efficient?
If you're thinking "not being able to use my Kentucky ID to board," your wishes have been granted.
That's right: starting in January 2018, Kentucky driver's licenses and IDs will not be sufficient for boarding commercial flights unless Kentucky complies with the REAL ID Act before that date. All you'll need to provide instead is something small and easy to slide next to your credit card, like a passport. If you don't have a passport, you can make a run by your local post office, which probably has an abundance of available, smiling employees ready to assist you in any way possible, and apply for one for the low cost of $135 and a flattering mugshot. The best part? Your shiny new passport will only take up to four months to arrive. So, if you have any vacation plans for the next two years, you should start your passport shopping early.
If 2018 sounds like too long of a wait for this government gift, have no fear. By January 2017, you'll need similar supplemental identification in order to enter any federal facilities, including nuclear plants and military bases.
So, if you're a Murray State student who boards a horse at Fort Campbell or has a sweetheart, family member or close pal who lives on base, get excited about not crossing those gates until you've got your wallet full of valid identification options.
As an ROTC and military-friendly school close to Fort Campbell, Murray State has more than a few students who frequent the base. How lucky are they?
If you're feeling confused about our apparent love for complicated boarding and passport issues, let us break it down: we don't love complicated boarding and passport issues, and we're entirely perturbed that our state has somehow become one of the eight states on this no-fly list.While these rules seem like a sudden blow to many Kentuckians, they've actually been in the works for a while. The 9/11 Commission established the REAL ID Act in 2005 in an attempt to set specific standards for identification issuance, according to the Department of Homeland Security's website. It's unclear why these phases of the Act are just now going into effect, but it's clear they will be more than a minor inconvenience to traveling Kentuckians.
Kentucky's "unbridled spirit" didn't accept the impending doom without a fight, though – like other states, Kentucky applied for a one-year extension to prepare for the changes. Unfortunately, the Department of Homeland Security denied the request on Oct. 12, which was the third time Kentucky has been denied the extension.
Now, we either have to buck up and face the changes ahead, or hope that our state would implement other advancements in order to comply with the laws. But – as per usual – that option is quite pricey and possibly more trouble than jumping through passport hoops. According to the Kentucky Transportation Cabinet, Circuit Clerk offices that currently issue IDs and driver's licenses would have to go through expensive security upgrades in order to produce IDs that satisfy the new laws.
Chances are, the state won't pony up the money to upgrade, which means you will. Gone are the days of struggling to get into a bar with your brother's ID – soon enough, you won't even get to the airport gift shop with your own.
Happy travels!