Story by Collin Morris, contributing writer
The Murray State Racers were defeated by Southeast Missouri State, 17-16 on Saturday after a four-quarter stalemate found the fate of both teams to be determined by a last-second field goal attempt. 
The two teams began their games in the air, scoring on pass plays. Southeast Missouri's Jesse Hosket, junior quarterback, found Tremane McCullough, freshman receiver, for an 11-yard touchdown. For the Racers, KD Humphries, senior quarterback, found Demetric Johnson, junior receiver, for a 67-yard touchdown pass. Both extra points were good, tying the teams at 7-7.
Although scoreless, the second quarter did end in the red zone, with a goal line stop and a prevented fake field goal by the Racers' defense. 
Murray State pulled ahead in the third quarter, going into the fourth with a 13-10 lead after a 1-yard rushing touchdown by Tyre Gray, freshman receiver, and a missed opportunity on the fake extra point turned two-point conversion. Southeast Missouri also scored in the third off a late drive gave Ryan McCrum, senior kicker, a 44-yard field goal attempt – which he converted. 
The Racers then converted on a fourth quarter interception by Dylan Boone, sophomore safety, with a field goal make from Connor Mitchell, senior kicker, to take a 16-10 lead. Southeast Missouri came back with its own scoring drive, completing a touchdown pass and placing the Racers behind, 17-16. 
With a minute left, the Racers'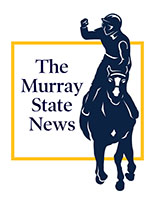 offense began their final drive. After two passes, totaling 31 yards from Humphries to Blackburn and two penalties totaling 25 yards favoring the Racers, the team found itself on the 21 yard line with 2.0 left on the clock. Head Coach Mitch Stewart again went to Connor Mitchell. After an icing timeout, Mitchell missed the field goal attempt, wide right, to seal Southeast Missouri's 17-16 win.
Despite the narrow defeat, Stewart was swift to defend the team's performance.
"As up and down as that game was, as bad as we played at times and as good as we played at times, we gave ourselves a chance with sixty seconds to go in the ball game and one timeout and a lot of field to drive," Stewart said. "We gave ourselves a chance to go down there and win the ball game."
Stewart also defended his kicker and the play calling. 
"Given the chance to do it all over again I'd do it with the same kid and the same kicker and same situation. I'd do it all over again," Stewart said. "I'd give him that opportunity every single time because I velieve in each and every one of those kids in that locker room."
The Racer football team will face its next challenge at 4:00 p.m. Oct. 1 in Clarksville, Tennessee, when it goes on the road against Austin Peay State.