Story by Matthew Parks, Staff writer
Late Thursday night, the Organization of Murray Art Students (OMAS) chalked what members said were positive messages on sidewalks around campus in response to Thursday's political chalk messages.
Before 7 a.m. Friday, the chalk messages were washed away by Facilities Management.
The political chalk messages, many of which lasted almost all Thursday on campus, ranged from messages such as "Make America great again for rich white men" to "Hillary for Prison."  Some of the political messages remain on campus; whereas all of the OMAS chalk images have been erased.
Messages from OMAS read, "Make art, not chalk war," and were centered on "neutral" images such as a sun.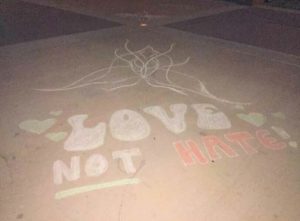 Savannah Young, president of OMAS and senior from Cadiz, Kentucky, sent an email to President Bob Davies Thursday morning and also published the letter on social media.
In her email to Davies, Young said her organization decided to spend the night making chalk drawings in order to combat the divisive messages left by anonymous political chalkers.
"The chalk war was a visual representation of the tension and the dissimilarity between groups of students on our campus," Young wrote.
Young wrote in her email that while they were drawing during the night, students of all cultures and backgrounds stopped to help them and add to the artwork.
"The international students joined us and wrote in their own languages alongside ours," Young wrote. "They drew cartoonish creatures and wild designs and added to the air of community and inclusiveness."
Young wrote the group was horrified to find that their efforts had been so quickly destroyed.
"My group is hurt," Young wrote. "They keep asking why their work was destroyed so quickly, when it was for the sole purpose of giving back to the students."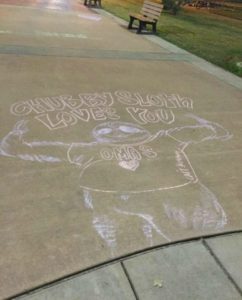 Young told The Murray State News Davies has since answered her email and empathized with the situation and the message that they intended to share with students. The Art and Design Department also responded immediately in a show of support.
According to the Murray State Student Life Handbook, unauthorized chalk messages on university property are prohibited. However, Young said while her group's messages were immediately removed, many Trump/Pence messages remain.
Young said she and Davies discussed the possibility of a "Free Chalk Zone" in the future – an area where students could create chalk messages and images without fear of them being erased by university staff.
Young said Davies assured her of the likelihood of the policy being added but will need time to work out all the details and guidelines.
This controversy comes right after another time of great controversy and freedom of speech debate caused by the presence of the Traditionalist Worker Party on campus. The group, a white nationalist political party, set up a table in the Curris Center for most of the day and posted fliers around campus promoting their party.
This group's presence provoked an open letter from Davies in which he described Murray State as a "marketplace of ideas," in which we should strive to find truth from the opposition of differing ideologies.
Young said she was upset at the perceived hypocrisy of the situation.
"You can talk about policy all day long," Young said. "But speech is speech whether it's said or it's written."
In Davies' open letter to the community, he said that Murray State should be a place where ideas can thrive, and pointed to many recent controversial issues in society, including Colin Kaepernick's protest against institutionalized racism.
"We can discuss and debate what an open society that has founding tenants of freedom of expression, thought, assembly, speech and that strives to be free of tyranny, oppression and censorship means," Davies wrote in his letter.
This was in response to students who wanted groups like the Traditionalist Worker Party to be prevented from recruiting on campus.
However, Young said she believes there may be a different reason.
"The simple reason that they were allowed more spotlight than my group of students is because they had money," Young said. "They paid for their table; they bought their ability to spread hate. In comparison, the university had nothing to gain from our message of amity."
Young said she remains hopeful for the future and for a more open campus in the future – the "Free Chalk Zone" may be one step closer to that.
"I'd like to say thank you to all the students that stopped to draw with us that night," Young said. "And to remind students that we have an amazing community that shouldn't be hindered by political differences."