Implementing steps to slash sexual assault statistics
Story by Ashley Traylor, Staff writer
Three Murray State students have reported being sexually assaulted this semester.
Last fall, there were four reported sexual assaults, according to police records.
Murray State works to raise awareness about sexual assaults – and bystander intervention – especially during April, Sexual Assault Awareness Month, with different programs. These include Great Beginnings, mandatory Title IX training, hosting the Vagina Monologue production and the annual Take Back the Night rally.
"Raising awareness is largely focused on how to support survivors, how to intervene as a bystander to prevent sexual assault from happening, and how to work proactively to create a culture of respect," Abigail French, director of the Women's Center, said.
The number of reported sexual assaults that occur on college campuses has increased 1,000 percent from 2009 to 2014, according to a report by U.S. News.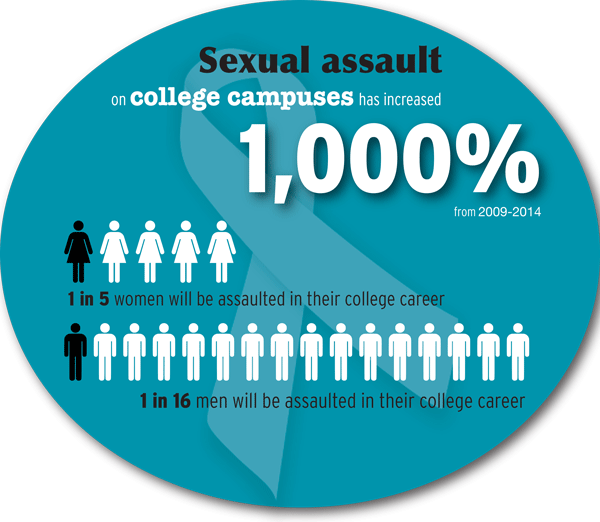 One in five women and one in 16 men will be sexually assaulted during their college career, and less than 10 percent of victims will report their assault, according to the National Sexual Violence Resource Center.
This is a tragic but solvable problem, Jessica Ladd, a TED Talk fellow, said.
During Ladd's TED Talk speech, she spoke about a website, Callisto, victims can access to electronically report their assault without going to the authorities. The website has a match feature, in which, if the same assailant is reported twice, authorities will receive notice and start an investigation.
The match system prevents 59 percent of perpetrators from committing the crime again because repeat offenders commit 90 percent of assaults, Ladd said. 
This year, Murray State has encouraged students to use the LiveSafe app to report sexual assaults, as well as other crimes to ensure security for students.
The app became available on Aug. 13, 2015.
Public Safety and Emergency Management issued an email notice about a sexual assault that happened on campus on Jan. 11, according to a Jan. 12 email sent to students.
Another sexual assault that took place on campus was reported Feb. 10 and Public Safety issued an email to students about the assault on Feb. 11.
Public Safety issued an email notice March 15 about a sexual assault that happened on campus March 14, the most recent assault.
The March 14 assault was the last reported assault, totaling three reported sexual assaults this semester.
The number of sexual assaults at Murray State are comparative to universities in the area. Morehead State University reported three sexual assaults this semester, according to the Morehead Police Department crime log.
Murray State seeks to prevent sexual assault through bystander intervention, teaching students "how to identify potentially harmful situations, to encourage a personal responsibility in each campus community member to act when they see those situations, and to teach each campus member how to intervene in a positive and safe manner," French said. 
Ladd said we do not have to live in a world where 99 percent of rapists get away with it, but we must hold those who do wrong accountable so survivors receive justice, authorities receive information they need and there is a consequence for violating the rights of another person.