Story by Abby Siegel, News Editor and Alicia Steele, Assistant News Editor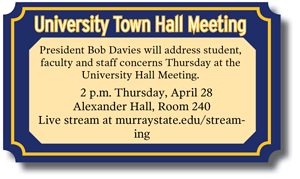 Murray State will no longer be the second most affordable public university in Kentucky – after Kentucky State – now that the Council on Postsecondary Education approved a new tuition model for incoming students that will raise the cost of attending Murray State.
"It is important to note too that while it is a big difference for us, with this new rate we are still below Eastern (Kentucky University), well below Northern Kentucky, well below Western Kentucky and well below all the private schools," President Bob Davies told The News Wednesday. "When you shop the commonwealth, we are extremely affordable."
Current students won't know for sure how much their tuition will increase until the Board of Regents meets May 13. The Council on Postsecondary Education set a maximum increase of 5.7 percent.
Davies said university officials also haven't decided if Murray State will raise the $65 fee for online classes.
Incoming students this fall will take the brunt of the increases, as Murray State will bump in-state tuition to $4,200 per semester from the current rate of $3,804. New students from surrounding states who pay regional tuition will be charged $8,400 per semester. Out-of-state students starting this fall will pay $11,340, which is 9.5 percent more than out-of-state students pay each semester this year.
Another key change to the structure is that those rates apply to students taking between 12 and 15 hours each semester. Starting with the next crop of students in Fall 2016, the university will change extra for each credit above 15.
At the same time, Davies said Murray State also is revamping its scholarships and adding several new ones aimed at attracting "high-caliber" students. For instance, students who earn a 3.7 GPA during their first year at Murray State would qualify for a new "Academic Achievement" scholarship for their second year, according to the plan.
"I actually think that it's going to enhance the retention and graduation rates," Davies said. "It is designed to increase the academic preparedness of students coming in."
The new tuition and scholarship model, which Davies announced last fall, has been approved and will take effect beginning Summer 2016.
While Murray State will collect more money from students, the university is bracing for cuts in state funding.
Gov. Matt Bevin signed the budget bill Wednesday with several vetoes that don't affect Murray State. The state budget that takes effect July 1 cuts 4.5 percent in state funding. In addition, Murray State must cut about 2 percent from the current fiscal year that ends June 30.
This has caused administrators, deans and department heads to trim costs and recommend classes and programs to cut.
"I have received the programs today, and they are extensive and wide ranging," Davies said. "I am not in a position at this point in time to talk about the specific ones, but there will be some reductions."
Davies will face students, faculty and staff at a town hall meeting Thursday at Alexander Hall, Room 240.
– Bailey Bohannan contributed to this report.