'The Jungle Book' reboot brings a fresh spin on a classic
Review by Adam Winn, Staff writer
When most people think back to their childhood, one of the films that stands out is the timeless animated classic "The Jungle Book." The feeling of nostalgia is very influential. When producers take on the responsibility of remaking a significant story many know by heart, they have to be careful not to destroy the legacy of the original. The new live-action remake not only honors the original, but will introduce an entirely new generation to the phenomenon that is "The Jungle Book."
The plot tells the story of Mowgli (Neel Sethi), a young human orphan who is found by Bagheera (Ben Kingsley), a noble black panther living in the jungle. Thereafter, he is raised by a pack of wolves and referred to as the "man cub." After a menacing tiger named Shere Khan (Idris Elba) makes a threat on Mowgli's life, the pack unanimously decides he should leave the jungle and be reunited with his own kind.
Bagheera decides to escort Mowgli to a close village. After a surprise ambush by Shere Khan on the way there, Mowgli is left alone in the middle of the jungle. Not long after, he crosses paths with a seemingly lethargic brown bear named Baloo (Bill Murray) who decides to teach Mowgli about the "bare necessities" of living in the jungle.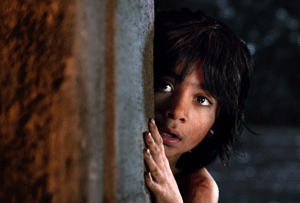 First off, nearly the entire film, from the jungle background to the animal designs, is purely CGI. The computer animation is so vivid and detailed that the movie looks entirely life-like and uses some of the best design techniques to date.
While still carrying over a majority of the plot devices from the original animation, this film is not a carbon copy. This version has a noticeably darker tone than the first one, making it more enjoyable for an adult viewer to watch but not enough to discourage bringing a small child to view it.
This interpretation of the story is also not a musical like the original but does pay homage to that film by incorporating newer renditions of the more popular songs, such as the iconic "The Bare Necessities" and "I Wanna Be like You."
The acting is spectacular. Newcomer Sethi, who plays the only major live action character in the film, gives an outstanding performance as the "man cub," Mowgli. The rest of the cast is rounded out by a colorful array of mesmerizing voice portrayals. Murray's representation as the lovable bear Baloo is hilarious and entertaining and is one of the overall highlights from the motion picture.
Additionally, Elba, deserves an honorable mention for giving a ferocious voice-over as the story's primary antagonist, Shere Khan. Every scene he is in gives off an uncomfortable feeling. The viewer can easily detect all the built up resentment and hatred the tiger has for Mowgli, materializing during his first on-screen appearance and progressively increasing throughout.
"The Jungle Book" is already one of the year's best films. Whether the viewer is an adult or a child, the audience will leave feeling completely satisfied with the story and knowing they got their money's worth. This a must- see movie that will undoubtedly become a classic that watchers will relish and enjoy years from now.